Reed says the final product designs benefit from the ability to make multiple iterations, and also to collaborate with other departments at Stanley Black & Decker. Less than 48 hours before an international design review, company designers outside the US sent Reed's team a CAD design for a new stackable toolbox.
"It was a very large model that we printed in three parts," Reed said. "The ZPrinter made the project easy -- we finished the model a day early, and the design review was a total success."
The prototype process was cumbersome before Reed's department used 3D printers. "We would CNC-machine high-density polyurethane, which is a commercial prototyping board. It's made for that purpose, and cuts very cleanly and is very stable," Reed said.
But it's also slow and expensive because of the man hours required. Reed still uses the CNC process to produce large prototypes because of build envelope limitations of the 3D printing process. Production of a prototype for a large vacuum, for example, would require machining of a 20lb foam block. The build envelope in the Z650, a workhorse in Reed's shop, is 254mm x 381mm x 203mm, according to company literature.
Models from the ZPrinter need to be de-powdered and infiltrated before they are ready for a design review. But the time and cost savings remain substantial.
Smaller companies also report that 3D printing is rapidly changing how they go to market and design new products.
Tape Wrangler, a product development and manufacturing company in Traverse City, Mich., directly attributes rapid revenue growth since its founding five years ago to in-house 3D printing using Dimension printers from Stratasys.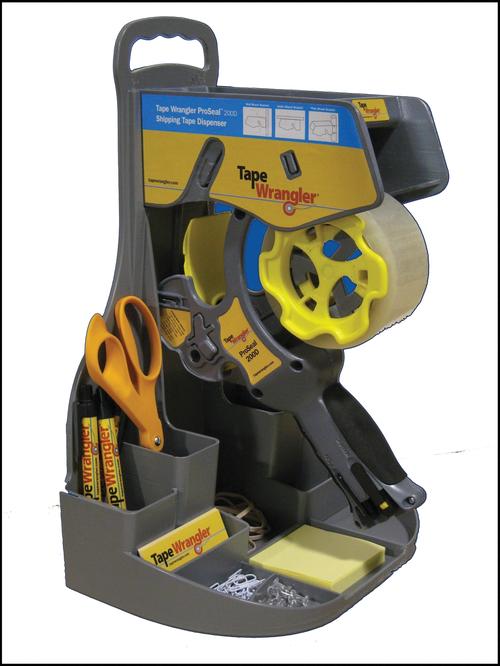 A national retailer asked Tape Wrangler to develop a private label tape dispenser design.
"In just a few weeks, we came back to the retailer with a revised prototype and they were blown away," said Wendy Steele, a co-founder of the company. "Instead of testing our product in 100 stores as originally planned, they decided to expand testing to more than 1,300 stores." She says Tape Wrangler improves its designs by testing multiple iterations quickly and inexpensively.
Some of the components in the Tape Wrangler require tolerances as tight as 1/250,000 of an inch. "The strength, level of detail and appearance (from the 3D printer) rivals a final production piece, and it makes our printer a priceless design and marketing tool," says Rick Steele, a co-founder of Tape Wrangler. The 3D printer cuts costs 86 percent and development time 41 percent compared to traditional prototyping methods, he says.
Cisco uses the ZPrinter 450 to create 10 models per week, on average, for design review at its new European Design Center in Copenhagen. Models are printed directly from 3D CAD files submitted by Cisco designers around the world.
Designers pass around models, mark them up with pencil, revise designs in software, print out new models, and repeat the cycle as necessary. "We get prototypes quickly, we refine them quickly, we create new ones, and we derive our elite designs," says Eskild Hansen, head of the design center for the Cisco Consumer Business Group.