Two new groundbreaking technologies from Stratasys that integrate a lot more than additive manufacturing will bring accurate, repeatable manufacturing of very large thermoplastic end products, and much bigger composite parts, onto the factory floor. Stratasys developed these new technologies in response to automotive and aerospace industry needs and showed them off in demonstrations at a global media summit held at company headquarters this week.
What these systems are not is finished and ready-to-ship products. But they are fully functioning, fully automated, manufacturing workcell demonstrators. They use existing and new fused deposit modeling (FDM) extrusion technologies, plus, in one, 8-axis robotics systems, to make enormous plastic parts and bigger, light, thin, high-quality carbon composite parts. And they make these production parts at least 10 times faster than current FDM systems.
Stratasys worked with Boeing, a long-time lead customer, to develop the Infinite Build 3D Demonstrator and with Siemens to develop the Robotic Composite 3D Demonstrator, both based on Stratasys' FDM extrusion technology. Boeing, which played an influential role in defining the requirements and specifications for the demonstrator, is already using one to explore the production of low-volume, lightweight production parts, said Teri Finchamp, director of operations for Boeing Phantom Works.
Ford is also exploring applications that may be enabled by Infinite Build technology. Ford, as the first automotive OEM to receive and evaluate this technology, plans to evaluate it for enabling smart design, said Dr. Ellen Lee, Ford's technical director for additive manufacturing research. Ford and Stratasys are also collaborating to explore new composite and other durable, automotive-grade 3D printed materials that weren't possible before because of part size limitations.
Click on the image below to start the slideshow: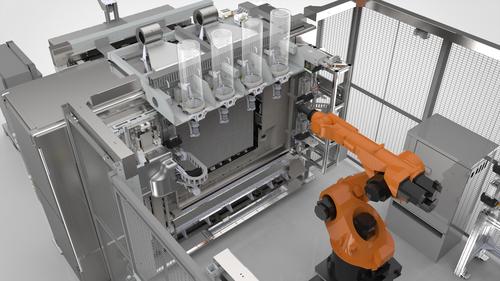 Infinite Build 3D Demonstrator
The Infinite Build 3D Demonstrator turns the traditional 3D printer 90 degrees on its side. The normal 40 x 30-inch FDM platform becomes the system's width and height axis, while the Z axis in which the build is made is now horizontal instead of vertical. This makes it possible to print enormous, lightweight, thermoplastic parts such as wind turbine blades or an entire aircraft interior panel, "parts as big as this room," said Scott Crump, Stratasys chief innovation officer and company founder. The demonstrator is also a step change because it includes in-situ process control for precise, repeatable mechanical properties. The new primary extruder also has a more consistent temperature, resulting in better viscosity and bonding between layers, he said. During the demonstration, the company's vice president and product leader for the Infinite Build 3D Demonstrator, Jim Orrock, said parts 16 to 20 feet long had been built with the system. One example shown was a 16-foot duct for a train car.
---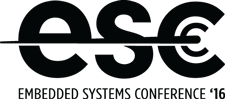 3D Printing's Brave New World. Ann Thryft will lead a panel discussion on one of the hottest topics in manufacturing: 3D printing. Come hear "3D Printing: The Brave New World of Manufacturing" at the Embedded Systems Conference. Sept. 21-22, 2016 in Minneapolis. Register here for the event, hosted by Design News' parent company UBM.

---
The demonstrator also depends on a new type of extruder that allows continuous extrusion, increasing throughput and repeatability: a screw extruder that deposits thermoplastic micropellets 1/2 mm in diameter via vertical hoppers. This demonstrator uses a motion control system to print at 2 meters per second, said Orrock. Multimaterial printing in the same build layer is enabled by using multiple hoppers and extruders. While this system is at least 10 times as fast as previous FDM machines, Stratasys already has a design for a system that's 100 times as fast, said Orrock.
Robotic Composite 3D Demonstrator
Watching the Robotic Composite 3D Demonstrator in action is as close to a robotic ballet as I've ever seen. The system's eight axes make it possible to print essentially from the inside out instead of layer by layer. The carbon fiber composite dome built during the demonstration (see Slide 5) had no seams or layer transitions, since it was made with a single spiral toolpath, said Scott Sevcik, Stratasys' director of manufacturing platform development, who will also be speaking at a panel of hands-on experts in 3D printing at next month's Embedded Systems Conference in Minneapolis, 3D Printing: The Brave New World of Manufacturing.
The dome's reinforcing ribs were printed orthogonal to the dome layers, in a single toolpath that follows a complex curve through space (see video in Slide 7). By continuously reorienting the part, made possible by its eight axes, the part was produced without any support structures, using a highly controlled fiber orientation that can be oriented in any axis required. For most part geometries, no support structure will be needed, said Sevcik. This system also uses the new micropellet screw extruder, in addition to a typical filament extruder to form the composite.
Stratasys worked closely with Siemens to develop the Robotic Composite 3D Demonstrator's technology. Siemens' industrial motion control hardware for the robotics, plus its CNC automation and PLM workflow software for design and manufacturing, were integrated with Stratasys' core advanced additive manufacturing FDM technologies, said Arun Jain, Siemens vice president of motion control for Digital Factory US. As several officials pointed out during the presentation, existing FDM technology is already used in Stratasys Fortus production machines for making end products, especially aerospace parts. Most notable, perhaps, is the serial production of thermoplastic parts made on a Fortus 900mc for the ducting system of United Launch Alliance's Atlas V rocket (see Slide 8). In that instance, redesigning the environmental control system duct for 3D printing cut the number of parts from 140 down to 16, and saved 57% in costs, compared to traditional manufacturing, said Garrity.
Right now, the Robotic Composite 3D Demonstrator runs chopped fiber, but that will change to continuous fiber in the future, said Rich Garrity, president of Stratasys Americas.
The new demonstrators are step-function changes that enable things that couldn't be done before in the industry, said Stratasys CEO Ilan Levin. But they also signify a step change for the company, as well. "Customers will no longer be just buying machines from us and figuring out how they work," said Levin. "We'll be partnering more with our customers, because it's what goes around the process that's important. It's no longer about a specific system or process, but how a specific material integrates with a specific process, how everything that goes around that process is integrated into a solution." The ecosystem Stratasys is growing now includes workforce training and strategic consulting services as customers look for enterprise-wide solutions, said Garrity, as well as software such as GrabCAD, since software has an increasingly important role in the ecosystem.
Garrity said there are no formal product descriptions yet, or timelines for commercialization, for either demonstrator. Both will be displayed at the 2016 International Manufacturing Technology Show (IMTS) in Chicago on September 12–17.
Ann R. Thryft is senior technology editor, materials & assembly, for Design News. She's been writing about manufacturing- and electronics-related technologies for 29 years, covering manufacturing materials & processes, alternative energy, and robotics. In the past, she's also written about machine vision and all kinds of communications.