We recently told you about a report that forecasts a major shift in biofuels to nonfood-based feedstocks in the next few years. Another study from the same firm, Lux Research, forecasts a big capacity increase in bio-based materials and biochemicals, including those that go into bioplastics. Unfortunately, these are mostly based on first-generation feedstocks like corn and sugarcane.
Companies making a variety of bio-based materials and chemicals are scaling up to commercial production levels. Bio-based chemical intermediates will more than double by 2017, the second report says (registration required). Specialty chemicals will grow sixfold.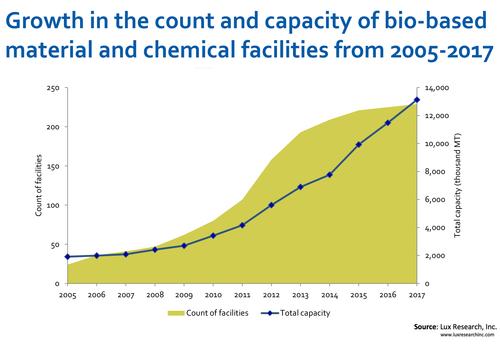 The dominant bio-based sources will remain first-generation sugar/starch feedstocks such as corn and sugarcane, the study said. Julia Allen, lead author of the report and a senior analyst with Lux Research, told us there are several reasons for this.
"The biochemicals industry doesn't have the same amount of regulation as the biofuels industry," she said. "Capacities in biochemicals are also much smaller, so many in biochemicals are looking at first-generation feedstocks to get their plants up and running." That's because those feedstocks are readily available, with known markets and established pricing. From a logistics standpoint, they are very simple.
They are also much easier to convert chemically than the second-generation cellulosic feedstocks (like woody biomass or dedicated crops) that are the focus of some biofuel R&D efforts, Allen said.
The conversion process for these cellulosic feedstocks is not so simple. They are more challenging to work with. Also, there are supply chain issues, such as how to collect raw materials from farmers' fields and other locations, and how to establish prices of leftover biomass at different sources. First-generation sugars will continue to lead capacity growth, at least until someone solves the cellulosic problem.
That's why the study says cellulosic feedstock growth will be relatively slow. However, the use of cellulosic waste such as corn stover does continue to rise. The report forecasts that it will make up 9% of feedstock use -- including first-generation and next-generation sources such as cellulosic, food waste, and gases -- and 32% of cellulosics by 2017. Diversity in feedstocks will be fostered by a growing focus on techniques based on harvesting waste gases, such as the carbon dioxide waste stream from a power plant.
The biggest growth in biochemicals will occur in intermediate chemicals such as adipic acid and lactic acid. These will rise from 2.0 million metric tons to 4.9 million by 2017. Bio-derived polymers will grow 18% a year through 2017. "The basic science of bio-based materials and chemicals has advanced to the point that dozens of chemicals can now be produced from multiple feedstocks, at costs that are competitive with petroleum, at least in theory and at scale," Allen said in a press release.
Related posts: