This will be the year that makes or breaks individual alternative fuel technologies in North America, according to a new report from Lux Research, "Leading Alternative Fuel Developers Race to Real Revenue in 2013." Several next-generation plants are scheduled to begin operations, while funding sources are changing. The result is that some alternative fuels sources look like better prospects than others.
The trillion-dollar North American fuels market is so large there's room for multiple technologies, Andrew Soare, Lux Research analyst and lead author of the report, told us. The study divides alternative fuels into eight categories: crop modification, pretreatment, algae, gasification, bioprocessing, pyrolysis, torrefaction, and catalytic conversion. Some are lesser-known technologies, such as torrefaction, which is used to make a biocoal. Others -- crop modification, pre-treatment, and bioprocessing -- represent different stages of processes to create biofuels like ethanol or butanol from crops.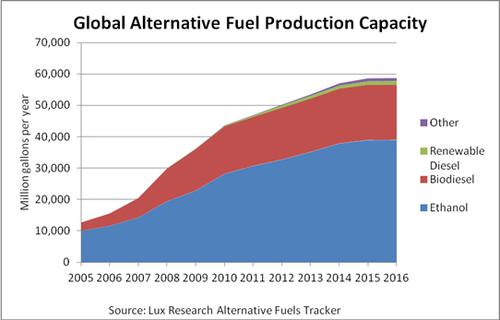 One of the least promising fuel technologies is algae. In spite of its high potential for productivity, the industry has experienced "a long, tough road economically," said Soare. There are opportunities for making higher-value specialty chemicals from algae, but high capital costs and its high water usage means algae-derived fuel will not likely be able to compete on price with other fuels during the next decade.
Gasification is more of a mixed bag. Its ability to take in a wide range of feedstocks, such as municipal solid waste and waste biomass, is its major value. Many leading producers are targeting electricity markets for the near term. Fuels that capitalize on the technology's lower feedstock cost may be a longer-term potential.
Pyrolysis is also flexible about feedstock requirements. While most developers are looking at wood, some are using plastics. Pyrolysis produces an oil that needs some further refining, but the end product tends to be higher quality than gasification. "Getting capital costs down where plants are affordable to build, and focusing on lower-cost feedstocks, both need to be done, but it's a promising sector," said Soare.
Catalysis converts animal fat or vegetable oil into biodiesel and renewable diesel. Biodiesel's processes were understood before those of renewable diesel, and it's easier to make. The two terms refer to two different chemistries for producing alternative diesel fuels from biological feedstocks, either plant-based or animal-based oils. Renewable diesels, chemically the same as petroleum-based diesels, lack oxygen atoms, so they need additives to provide lubricity. Both are usually blended with petroleum-based diesel, although biodiesel can be used in pure form. Both can be used in the unmodified engines of diesel vehicles.
It's easier to use vegetable oil in bulk, but prices of virgin vegetable oil feedstocks can be higher than prices of animal waste, said Soare. Animal fat has to be aggregated somehow, and some rendering companies are developing their own gathering infrastructure.