I've been hanging out more on Kickstarter. That's where a lot of not just clever, but ingenious and useful manufacturing products are showing up, many created by engineers for engineers (and sometimes for others, too). For example, there's the scan, fax, copy, and 3D-print Zeus all-in-one machine we told you about last week. Earlier this year there was a DIY injection molding machine.
The latest one I found on the site is an all-in-one machine that 3D-prints, etches, and mills called the Microfactory. It technically fits on a desk, although it's larger than most desktop printers. It was conceived and built to be a self-contained prototyping and machining system for product development, not for end production. It is one that's easy to use, portable, quiet, and leaves no mess behind. Its creators, four members of an independent maker space, formed Mebotics and funded the first five versions of their machine-shop-in-a-box before offering it on Kickstarter.
Click on the photo below to check out the ins and outs of the Microfactory.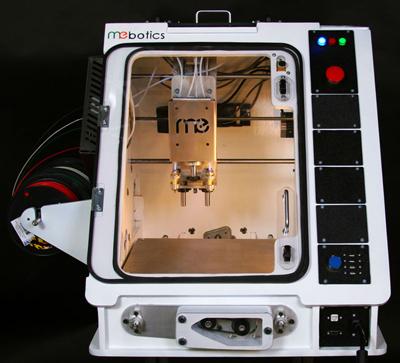 I'm not sure if the four will reach their goal of $1 million by September 27, since as of this writing they've been funded at less than four percent. That's too bad, because I think the idea of combining these functions into one machine is a nifty idea, and so do nearly 100 backers. Whether it funds or not, I think it's worth contemplating what a machine like this could do. I think we'll be seeing more like it that combine multiple manufacturing and other functions.
The Microfactory prints multiple-colored, multiple-material parts. It also does computerized etching and computer-controlled milling. Combining these functions in one machine means you can mill precision features into parts you've already 3D-printed. You can also print different layers of colors and/or materials and mill through the layers to create different designs. Build volume is 12 inch x 6 inch x 6 inch (30.48 cm x 15.24 cm x 15.24 cm). The total outside volume of the plywood frame is 25 inch x 29 inch x 25.5 inch (63.5 cm x 73.66 cm x 64.77 cm). The machine has a port for attaching a shop-vac hose to reduce mess.
The system includes on onboard computer with USB and Ethernet connections for wired networks. It runs industry-standard g-code on a customized version of LinuxCNC. Structurally, it was built to resemble more an industrial milling machine for stability and precision than a low-end 3D printer in that it uses acme-threaded screws instead of belts and pulleys and a Z-axis tray on strong rails. The Microfactory comes with a noise-reducing chassis and housing, as well as neoprene gasketing around its openings. An all-metal chassis is optional.
If the team does meet its funding goal, the company expects to start shipping about a year from now. A simplified version that prints one color or material and is equipped with an upgraded 650 W milling spindle will ship first for a minimum pledge of $3,195. The full version with four print heads and a 300 W spindle is available for a minimum pledge of $4,495.
Related posts: