Oak Ridge National Laboratory (ORNL), which helped make possible Local Motors' first 3D-printed car, has developed a carbon fiber production method it wants to share with you. That is, if your company wants to license a faster, cheaper, greener method for manufacturing industrial-grade structural carbon fiber. The deadline to apply is May 15.
The benefits of composites reinforced with carbon fiber are well known: primarily strength-to-weight ratios that can't be beat. But the high cost of manufacturing carbon fiber, not to mention the cost of making composites, can be prohibitive for many industries outside aerospace and high-end sports cars. After more than a decade of research, extensive analysis, and use by industrial partners in prototyping, the lab's Carbon Fiber Technology Facility is demonstrating the process and making it available for licensing. ORNL says its production method will reduce the cost of carbon fiber by up to 50% and the energy used in its production by over 60%.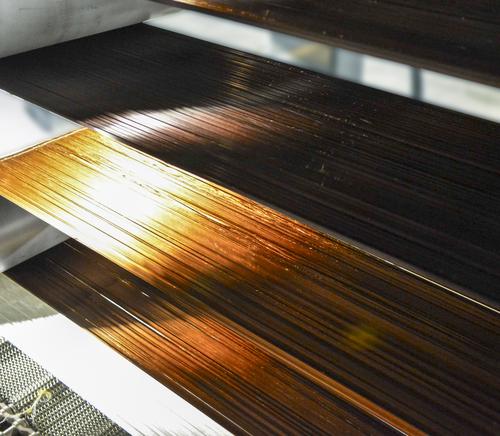 As a technology partner in the Institute for Advanced Composites Manufacturing (IACMI), ORNL has been working on technology to enable the use of low-cost carbon fiber composites in multiple new clean energy products, from high-pressure tanks for natural gas storage to offshore wind turbines. The lab's researchers hope their method will accelerate the adoption of carbon fiber composites in high-volume industrial applications like these, as well as for more mainstream uses such as automobiles.
ORNL researchers believed that textile-grade polyacrylonitrile (PAN), chemically similar to a commodity acrylic fiber used in clothing and carpets, could be used as the precursor fiber for making lower-cost carbon fiber than the specialty grade PAN now used in industry. The conversion process for specialty precursor materials is also energy- and capital-intensive, another principal contributor to their high cost. Laboratory-scale experiments, however, weren't sufficient for exploring the potential of the lower-cost fiber at a production scale. So the lab got funding from the Department of Energy's Advanced Manufacturing and Vehicle Technologies offices for research and operations at the Carbon Fiber Technology Facility.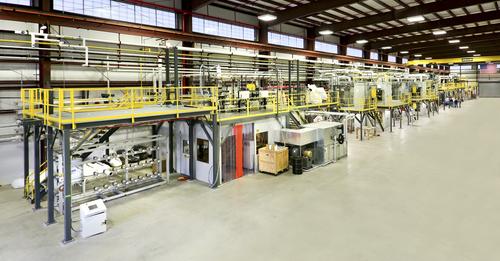 This facility, a 42,000 square foot carbon fiber conversion plant with a 390-foot processing line, has a capacity of up to 20 tons per year. It can do custom unit operation configuration, and can be used by government and commercial partners to validate conversion of their carbon fiber precursors at a semi-production scale. The facility also has lots of instrumentation.
READ MORE ARTICLES ON COMPOSITES:
ORNL conducted extensive mechanical property tests on carbon fiber from the new process. Several car manufacturers and suppliers used the fiber for prototyping, and demonstrated tensile strength, tensile modulus, and strain-to-failure values of 400 ksi, 40 Msi, and 1%, respectively. Cost reductions in the new process were determined by a detailed analysis comparing the new carbon fiber production process to a published baseline for conventional production. Nine major process steps were included, from precursor and pretreatment to finishing with surface treatment, sizing, winding, inspection, and shipping.
ORNL is accepting applications for licenses to use the new low-cost carbon fiber process through May 15. US manufacturers can find licensing information here.
Ann R. Thryft is senior technical editor, materials & assembly, for Design News. She's been writing about manufacturing- and electronics-related technologies for 28 years, covering manufacturing materials & processes, alternative energy, and robotics. In the past, she's also written about machine vision and all kinds of communications.