We've told you about drones and flying robots that do everything from delivering medical equipment for first responders, to rescuing people after a disaster, to inspecting planes and performing military recon jobs. But a Polish design firm has one of the wackiest uses we've heard of yet. Their robotic critters (that resemble either big bugs or really short palm trees) capture carbon dioxide and feed it to plants growing on their wings.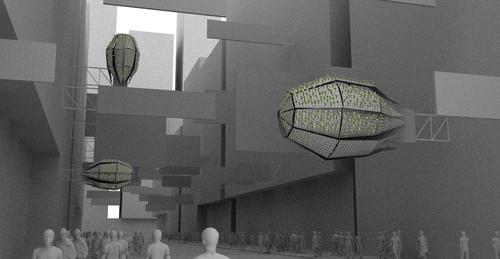 The "parasitic robots," as their creators NAS-DRA call them, perch on unlit neon signs during the day, sucking up carbon dioxide through a coating into their spread wings. At night, when the neon signs light up, that heat activates the coating at a certain temperature and releases the CO2 for plants grown via hydroponics on the drones' now folded-up wings. The gas can also be collected for future use as energy, as we've mentioned before, or even for use in plastic feedstocks.
The "-CO2" project combines pollution reduction with small farming and energy harvesting, and initially targets hot and humid cities like Hong Kong, according to the NAS-DRA project page. The coating is based on a polyethylenimine (PEI) paint being developed by researchers at the University of California Los Angeles. Although a lengthy Google search didn't turn up any current projects investigating CO2-consuming paints or coatings by researchers at UCLA, I found a 2012 post about University of Southern California materials that sounds remarkably similar.
According to the project page, PEI is well known as a CO2-eating chemical and coatings based on it have been used to impregnate porous materials in aircraft interiors. In this case, NAS-DRA says PEI is combined with fumed silica, and the combination can be made into a stiff material with a large enough surface area. During lab tests this combination resulted in "the highest CO2 absorption ever reported in the real-world conditions where the air contains moisture." After the robot wing material has absorbed the maximum amount of carbon dioxide during the day, heating the material to a certain temperature either produces air with a high concentration of the gas, or pure gas, depending on the medium (air or vacuum).
According to an article in Fast Co.EXIST, the material is still undergoing lab tests and the NAS-DRA designers expect to continue working with the robotic designs until large-scale testing is possible.
Click through to see more images of the NAS-DRA drone.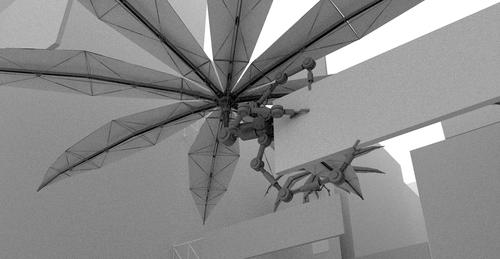 Related posts: