We've been following the progress in 3D printing (3DP) of parts that must perform consistently at high temperatures in mission-critical or high-value applications like aerospace. Why? Because if it's possible to make these, then a big chunk of the challenges associated with end-production of 3D-printed parts has been solved. The poster children for these efforts are components of satellites and rockets.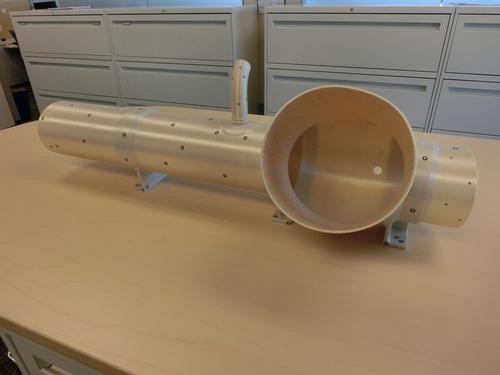 Joining NASA, Space X, and Aerojet Rocketdyne in using 3DP for fully functioning rocket components is United Launch Alliance (ULA). The company is working with NASA, which has several ongoing projects for 3D-printed rocket engine components, as we've told you.
MORE FROM DESIGN NEWS: 3D-Printed Rocket Engine Fires Up
ULA makes launch vehicles for NASA, the Air Force, and commercial satellite makers, at $165 million per rocket. The names of those rockets are well-known to space buffs: Atlas and Delta, for instance. Aside from propelling a 60,000-lb satellite into space, these rockets must also withstand extreme temperatures, speeds, vibration, pressure, and G-forces. Like SpaceX's story, ULA started out using 3DP for prototyping parts, and went on to use the technology for producing tooling and then fully functional flight hardware.
With Stratasys' Fortus 900mc 3D Production Systems and ULTEM 9085, ULA expects to cut costs in half by 3D printing the Atlas V rocket's Environmental Control System (ECS) duct. The part delivers nitrogen to the rocket booster's electronic components. Atlas V is the same rocket model that will launch the US Air Force's AFSPC-5 defense mission in a few weeks from Cape Canaveral. The new 3D-printed part, though, won't fly on Atlas V rockets until some time next year.
MORE FROM DESIGN NEWS: SpaceX Reveals 3D-Printed Rocket Engine Parts
3D printing the duct allowed design modifications that consolidated multiple parts, cutting parts count from 140 to 16, shaved time off of installation, and cut per-part costs of producing the parts by 57%. Testing of the ULTEM 9085 material showed that it retains its strength properties over a wide range of temperatures, from ones as low as cryogenics to extreme high heat, and also resists the vibration and stress encountered in rocket lift off, said Greg Arend, ULA's program manager for additive manufacturing. Watch a video about the process and the materials for this part:
ULA also expects to use 3DP for a lot more rocket parts in its current vehicles, and to increase the parts count to 100 or more in its next-generation Vulcan rocket, said Arend.
Ann R. Thryft is senior technical editor, materials & assembly, for Design News. She's been writing about manufacturing- and electronics-related technologies for 25 years, covering manufacturing materials & processes, alternative energy, machine vision, and all kinds of communications.
Design engineers, New England's premier design & manufacturing event, Design & Manufacturing New England, will take place in Boston, May 6-7, 2015. A Design News event, Design & Manufacturing New England is your chance to meet qualified suppliers get hands-on with the latest technologies, be informed, and expand your network. Learn more here.