Sinterline PA 6 was also used to design an optimal air admission pipe system for the Yamaha FZ8 n113 motorbike with a modified high-horsepower engine. The prototype bike won the three-hour Boi d'Argent endurance race in 2012 at the 24H du Mans Moto Endurance World Championship.
Some rather unusual uses of plastic in automotive applications are the metal/plastic eVOLVE Hybrid Wheels made by Lacks Wheel Trim Systems. The first was designed to fit the 2012 MY Ford Focus SE. Another, made of a plastic composite material called Chromtec, has been designed for the refreshed version of the 2015 Audi A8 sedan, which debuted in August at the Frankfurt Auto Show. Those wheels eliminate 38.8 lb. from the weight of each vehicle.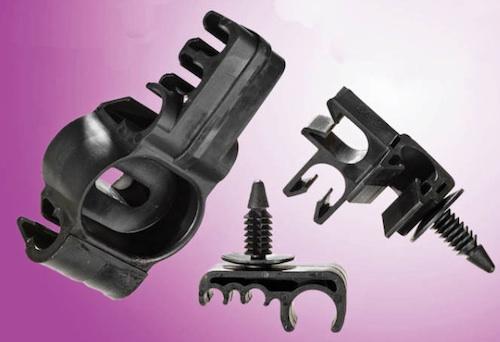 Another application for Solvay's Sinterline powders was in the Solar Impulse, the first 100 percent solar aircraft. The plane's first prototype model, the HB-SIA demonstrator, recently completed a piloted, cross-country flight over the US from California to New York. Solvay built two parts for the plane using Sinterline PA 6 powders: an air data computer housing for the avionics in the cockpit, and lighting clips in the wings. Since weight is critical, these parts' ability to save 78 percent of the weight of aluminum equivalents was a key factor in the material's adoption.
Some of the toughest conditions for materials occur in offshore and downhole oil and gas operations. Victrex Polymer Solutions' high-strength, lightweight PEEK polymers have been deployed in these applications for many years, especially as extruded pipe. Their characteristics include chemical resistance to hydrogen sulfide and crude oil at high temperatures; resistance to wear and abrasion, rapid gas decompression, and high heat; as well as low permeability and high ductility. For example, Victrex PEEK 450G complies with NORSOK Standard M-710 for aging in a multiphase sour fluid. Sealing systems have also been made with PEEK 450G and PEEK-based compounds.
In medical devices, clear versions of PA polymers are being used instead of polycarbonates for tubes and breathing masks. For example, Arkema's Rilsan Clear G-170 MED is a fully transparent polyamide that's lighter than polycarbonate. With a flexural modulus of 2,020 MPa it's also 16 percent more flexible than polycarbonate, increasing patient comfort. The material is more transparent than glass with a light transmittance of 91 percent.
Both medical devices and wearable technology must be made of materials that are both strong and lightweight, as well as flexible, so they can be worn or carried for long periods of time. Some of the ways OEMs are delivering both lightweight strength and durability to wearable technology devices include glass-filled, custom-designed thermoplastic compounds, materials enhanced with PEI (polyetherimide) fibers, and the use of advanced metal-plastic hybrids.
"In addition to tolerating constant bending and twisting, these new thermoplastics must also endure exposure to a range of chemicals, including household cleaning products and cosmetics," said SABIC's Gray. "UV resistance is also a major challenge addressed by these engineering thermoplastics."
Miniaturization and the consolidation of parts means that devices are becoming thinner. They will therefore need materials that offer increased heat and flame resistance to manage high-temperature internal electrical components. Many thermoplastic materials now provide robust thin-gauge flame retardancy, as measured by UL94V-0 testing at 0.8 mm thickness, according to Gray. Many also are extremely tough, passing the most stringent temperature and humidity tests to ensure long-term reliability.
Related posts: