A lightweight electric urban concept car designed by several European companies weighs only 992 lb without its battery. It would have weighed 26.7 lb more if its windows were made of glass instead of the specially coated LEXAN polycarbonate resin from SABIC Innovative Plastics. This is the same material used for windows in the Ford Lightweight Concept vehicle.
The Visio.M (Visionary Mobility) car is the result of more than two-and-a-half years of research and development by scientists at the Technical University of Munich, BMW, Daimler, and several other automotive industry participants. Visio.M consortium team members unveiled the car at the eCarTec show held last month in Munich, Germany. The goal of the project was to produce a lightweight electric car for use in urban environments that is safe, efficient, and appealing to a mass market.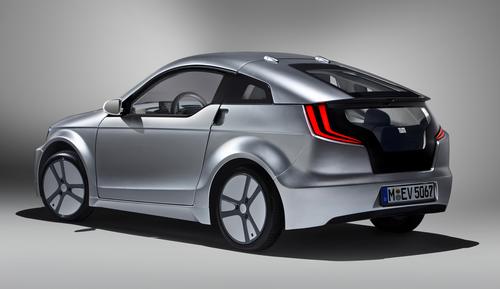 The concept car's engineering design takes advantage of several lightweighting materials to reduce its overall weight. Carbon fiber-reinforced plastic, ultra-light sandwich materials, and aluminum were used in the passenger compartment's front and rear sections, and in the roof frame. Additional weight savings were achieved in the car's chassis, transmission, and steering using lightweight construction methods to optimize weight and operation while ensuring safety. These include an aluminum tubular frame construction, an aluminum gearbox, and a steel-plastic composite gear wheel.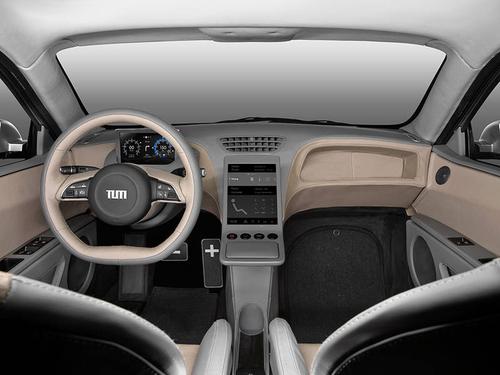 All of the car's windows are made of LEXAN, which weighs half as much as glass, but resists weathering and scratches just as well due to its special coating. SABIC says the resin's impact resistance is up to 100 times that of glass. The polycarbonate also insulates better, having one-fifth the thermal conductivity of glass with the same thickness. This helps lower the load on the battery to operate the air conditioning and heating systems. In turn, that extends the car's driving range by 15 km (9.3 miles), which SABIC validated using computational fluid dynamics.
The car's top speed is 120 km/h (75 mph). It measures 1.55m x 1.31m (5.08 ft x 4.29 ft) and has enough room to hold two people and their luggage. A 15kW electric motor runs on a 13.5 kWh lithium-ion battery made of consumer cells mounted in back of the two car seats. The battery weighs just under 85 kg (187.39 lb), bringing the car's total weight with battery to just under 535 kg (1,179.47 lb). The battery can be charged in three to four hours from a 230V socket.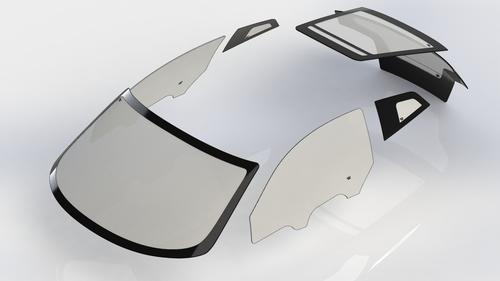 Light vehicle weight, low aerodynamic drag, tires optimized for low rolling resistance, an efficient drive train, and an energy-saving air conditioning and heating system combine to give the car a total range of around 160 km, or 99.4 miles. An active torque vectoring differential distributes force between the car's back wheels, saving energy and improving the car's stability while braking around curves. Warmth generated in the car is recovered for heating the car. Integrated Peltier elements heat and cool as needed, eliminating the need for liquid coolants. A backup heater that runs on ethanol is included for use in cold weather.
Additional members of the Visio.M consortium are The Federal Highway Research Institute (BASt), Continental Corporation, Finepower, Hyve, IAV, InnoZ, LION Smart, Siemens AG, Texas Instruments, and TUV SUD.
Related posts: