A tiny humanoid robot has safely piloted a small plane all the way from cold start to takeoff, landing and coming to a full stop on the plane's designated runway. Yes, it happened in a pilot training simulation -- but it happened. The research team from the Korea Advanced Institute of Science and Technology (KAIST) is working on their project's next steps: doing it in the real world.
You can watch the whole thing in the video below, which was made by the research team of professor David Hyunchul Shim and his students Heejin Jeong (now at the University of Pennsylvania) and Sungwook Cho from the department of aerospace engineering at KAIST. They presented a paper, "A Robot-machine Interface for Full-functionality Automation Using a Humanoid," detailing their work at last month's 2014 IEEE/RSJ (Robotics Society of Japan) International Conference on Intelligent Robots and Systems (IROS) in Chicago.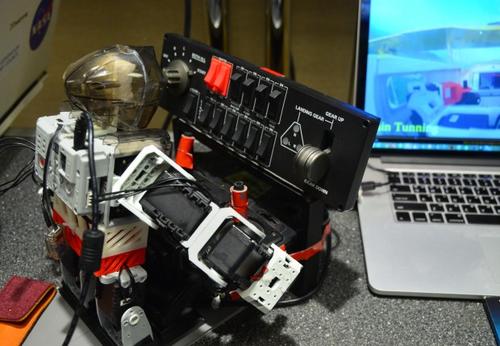 What strikes some people as especially wild and crazy about this isn't just the fact that it happened, but also how small the robot is: it appears to be only a few inches tall. Called PIBOT (Pilot + Robot), the robot is shown in the video piloting a PA-24-250 Piper Comanche. The bot starts up the plane, releases the brakes, and aligns the plane with the runway centerline. Then it takes off and makes a few half-turns to come back to the runway for landing. The video announcer says that in the very near future the robot will be mounted on a large plane for near-flight testing.
As the team points out in the abstract of its IROS conference paper, the robot's operation is entirely autonomous. "In order to perform various flight tasks in an unmodified airplane, the robot needs to perform three levels of tasks -- recognition, decision, and action," they wrote. "The robot collects information of the vehicle by using its own sensors and from various instruments in the cockpit. The robot then decides how to operate the flight control equipment in order to follow a given flight plan using its judgment. Finally, it directly manipulates the equipment by computing the kinematic variables in the presence of various constraints from the surroundings." Although the abstract gives no details about the robot's hardware or software, it does say that it's low-cost, and that the flight simulation software is the same as is used for training human pilots.
According to an article in IEEE Spectrum, the PIBOT is a slightly modified Bioloid Premium robot, an educational kit robot sold by Korean company Robotis, and the team said at the conference that PIBOT can already satisfy FAA flying handbook requirements. Although most navigation is handled by the robot's sensors -- IR, gyro, and distance measurement -- responding to the flight simulator's actions, PIBOT also uses vision to identify runway limits.
Shim says the team expects PIBOT to eventually be capable of replacing human pilots in fully automated flights.
Related posts: