At the International Manufacturing Technology Show (IMTS) last week, Stratasys introduced two new multi-materials PolyJet 3D printers, plus a new UV-resistant material for its FDM production 3D printers. They can be used in making jigs and fixtures, as well as prototypes and small runs of production parts.
The two new printers -- Objet500 Connex1 and Connex2 -- are simplified versions of the company's breakthrough Objet500 Connex 3 Color Multimaterials printer introduced last January. All three use Stratasys's triple-jetting technology, which enables printing multiple materials in the same object in a single print run. Connex technology has usually been used to make models and prototypes, while Stratasys's other main product line, its fused deposition modeling (FDM) machines, are aimed at making end products.
Click on the image below to start the slideshow.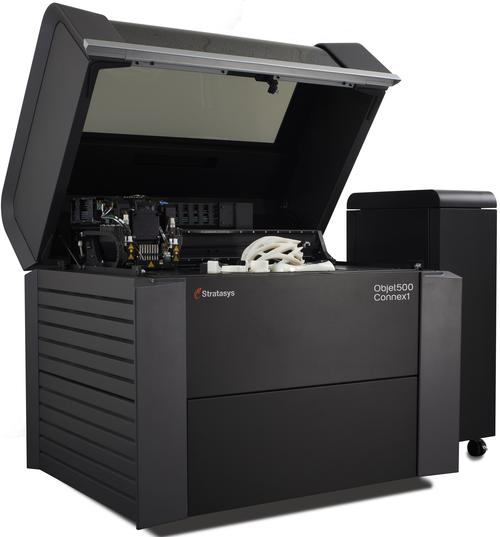 The triple-jetting Connex machines are also designed to make models and prototypes, but that's not the end of it. They can handle multi-material functional prototypes as well as tooling for small production runs. The Objet500 Connex1, for example, can combine three of 14 base polymers to make multi-material jigs and assembly fixtures for short production runs.
As Susan York, Stratasys's North American business manager for the materials group, hinted during our February interview, figuring out how to apply Connex technology, which cures via UV light, to injection molding would mean faster production and less waste. That's exactly what Stratasys has done with the Objet500 Connex2.
In addition to combining three different rigid and flexible photopolymers like the Connex1, it can also combine a total of three materials taken from those plus from the company's library of 120 two-component Digital Materials mixed on the fly. Mold cores and cavities for short-run injection molding, for example, can be created using Digital ABS. Up to 27 different hardness values, or optical or thermal properties, can be created in different parts of the mold or component, as well as over-molded handles or grips.
The Objet500 Connex3 is the most comprehensive, combining hundreds of two- and three-component Digital Materials for up to 82 different properties in a single build, including multiple colors in one object. All three machines have a build volume of up to 19.3 x 15.4 x 7.9 inches and can be used for a single piece or a mixed tray of small parts. All three each also have a large material cabinet that holds eight cartridges, giving the machine a longer unattended run time and fewer material changeovers than previous models. You can watch a video detailing some of the differences among all three models.
ASA (acrylonitrile styrene acrylate), the new thermoplastic material for FDM 3D printers, combines UV stability with mechanical strength for prototypes or end-production parts. Uses include automotive prototypes, outdoor electrical boxes and tools, jigs and fixtures, or parts for recreational vehicles. The material simulates ABS, comes in black and ivory, and is compatible with the Fortus 360mc, 400mc, and 900mc 3D Production Systems.
Related posts: