NASA's MAVEN spacecraft has entered Mars' atmosphere, carrying instruments to help Earthlings figure out what happened to it. Launched last November, as we told you last year, the spacecraft arrived at the red planet right on time after a journey of 442 million miles.
The Mars Atmosphere and Volatile EvolutioN (MAVEN) spacecraft is the first designed for exploring the structure and composition of Mars' upper atmosphere and ionosphere, and their interactions with the sun and solar wind. By determining today's rates of loss for both water and carbon dioxide, scientists hope to understand how those losses have impacted the planet's climate and habitability.
Click on the image below to start the slideshow.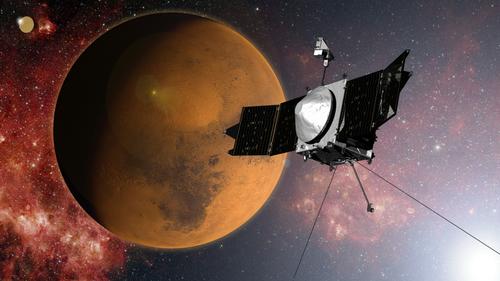 A part of NASA's Mars Scout program, MAVEN is the culmination of 10 years of R&D. Some of that R&D went into designing the materials for the spacecraft's instruments as well as for the satellite itself, which weighs about as much as a small car and has a 37 ft wingspan, including solar panel arrays.
The craft's core structures, for example, are made with carbon fiber composites made by TenCate Advanced Composites. The company is experienced in the design and fabrication of composites for aerospace applications, having already supplied them to previous Mars missions, including the Rover and Curiosity rovers. For MAVEN, which will orbit Mars for about one Earth year, TenCate engineered composite face sheets sandwiched between aluminum honeycomb sheets for the spacecraft's primary bus structure.
Other materials in the orbiter include a cylindrical aluminum boat tail on the aft deck that provides engine structural support. The craft is kept at the correct operating temperature -- 5F to 104F -- using active thermal control and passive measures, such as several thermal materials for conducting or isolating heat. Most of the orbiter is enclosed within multi-layer insulation materials; the outside layer is black Kapton film coated with germanium.
The spacecraft carries eight carefully designed instruments. These are magnetometer, neutral gas and ion mass spectrometer, Langmuir probe and waves, imaging ultraviolet spectrometer, solar wind electron analyzer, solar wind ion analyzer, solar energetic particles analyzer, and suprathermal and thermal ion composition analyzer.
Related posts: