Why would the biggest connector company in the world design and build what it says is the first fully functional 3D-printed motorcycle? That's what I asked TE Connectivity's Charles Fry at last week's RAPID 2015 show.
Fry, principal electrical engineer for the company's advanced manufacturing technology group, said an internal team decided to build the bike as a demonstrator. The intent was to show TE Connectivity's engineers what the technology can really do in making working load-bearing production parts, and free up their thinking when approaching design problems.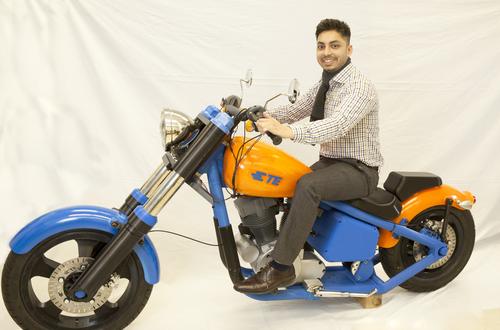 The bike was on display at the conference, and described by Fry in a talk he gave on May 20. Almost all of its parts are 3D printed, even the wheel bearings, and the frame is printed from standard ABS using Stratasys' FDM (fused deposition modeling) process. Other plastic materials that went into the motorcycle's parts include Ultem 9085, commonly used in aerospace applications. Most metal parts on the motorcycle were built using EOS' direct metal laser sintering (DMLS) process.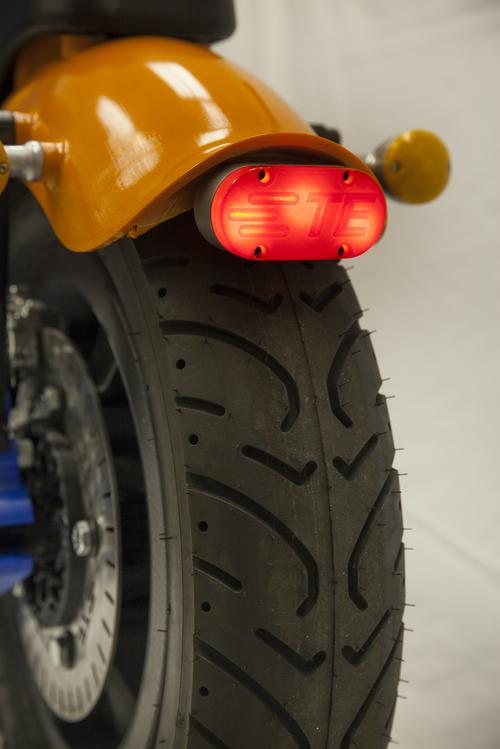 MORE FROM DESIGN NEWS: Vulcan & Atlas V Rockets Will Fly on 3D-Printed Parts
Very few parts are not 3D printed. These include the motor, drive belt, side mirrors, electronics, some bolts, as well as the battery and electronics. Also not 3D printed were the brake system and the kickstand, for safety reasons. The 8-ft-long, 250-lb all-electric motorcycle can seat two adults totaling up to 400 lb, and is capable of speeds between 10-15 mph.
During Fry's talk he gave details on the development and build processes and lessons learned. These included part design, removal of support material, assembly, part finishing, and part repair. Part repair issues arose after an accident during transportation that severely damaged the first motorcycle, Fry told Design News. That meant it had to be rebuilt, which gave an opportunity to make a few tweaks such as improving the mounting of the motor to the frame to improve performance. Assembly of the first motorcycle took about 16 hours using two to three people, but by the time the second one was built timing was down to about eight hours.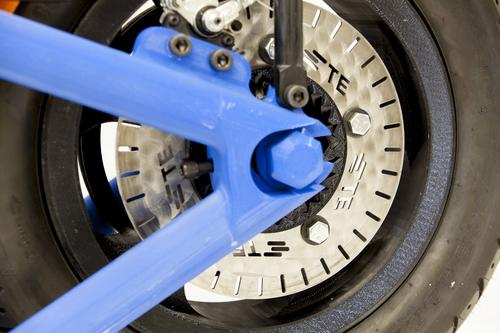 MORE FROM DESIGN NEWS: SABIC Focuses on 3D Printing's Shift to Manufacturing
TE Connectivity already uses 3DP for rapid prototyping and internal engineering samples during development of some of its own connectors, as well as for custom tooling, Fry told us. But it's important to see those connector designs in context, to help the company's engineers design better solutions for specific applications customers haven't yet finished. So engineers also use the technology to build models and prototypes of customer components for external customer demonstrations.
A few connectors are now made using 3DP for production since the cost of making them with CNC milling is about three to four times as high, Fry said. TE Connectivity has several 3DP technologies in-house, including SLA (stereolithography), FDM, DMLS, and Stratasys' ProJet and Objet machines.
Ann R. Thryft is senior technical editor, materials & assembly, for Design News. She's been writing about manufacturing- and electronics-related technologies for 27 years, covering manufacturing materials & processes, alternative energy, machine vision, and all kinds of communications.
Atlantic Design & Manufacturing, the largest advanced design and manufacturing trade show serving the Northeastern US, will take place in New York, June 9-11, 2015. It's your chance to meet qualified suppliers, get hands-on with the latest technologies, and expand your network. Learn more here.