A new service lets engineers and orthopedic surgeons design and 3D print highly accurate, patient-specific, orthopedic medical implants made of metal -- without owning a 3D printer. Using free, downloadable software, users can import ASCII and binary .STL files, design the implant, and send an encrypted design file to a third-party manufacturer. The implant is then printed using EOS's direct metal laser sintering 3D printing process, and shipped to the customer.
The Within Medical service combines EOS's technology with London-based Within Technologies' Within Medical software and the expertise of contract manufacturer C&A Tool, which acts as a service provider, EOS field marketing manager Jessica Nehro told Design News, in an interview. C&A Tool is the only manufacturer licensed to use the Within software in North America, Siavash Mahdavi, director of Within Technologies, told us. "We have three manufacturers in Europe, and we're looking to expand in Asia as well," he said.
Click on the image below to start the slideshow.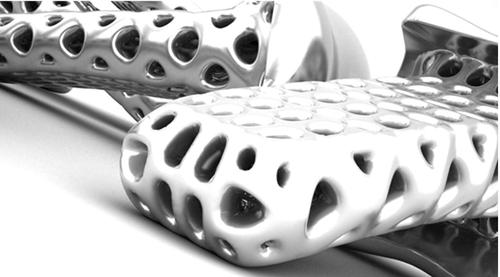 The idea for the service starts with the fact that 3D printing is ideal for creating customized orthopedic implants with porous metallic structures, instead of the lengthy process required to create different surface textures with traditional medical manufacturing, and the limitation of standard sizes. Last January at the MD&M West show, EOS of North America's director Andrew Snow told us that 30 percent of the 3D printing business is in medical applications, and one of the biggest is titanium implants. These make use of optimized lattice structures and rough surfaces that speed bone growth integration. As we reported then, Snow told us that costs were diving. As an example, in 20 hours, 18 titanium acetabular cups made by Within Technologies using EOS systems can be printed for only $70 each, including capital equipment depreciation.
But generating those optimized lattice structures is not a simple operation. "One advantage of additive manufacturing [AM] is it allows you to create a porous coating and solid substrate in one piece," Mahdavi told us. "The software can simplify this; it allows you to coat surfaces with porous coatings." This metallic foam is made of a series of struts, each only about 200 microns in diameter, with thousands of separate struts in a typical hip implant. There is software that generates lattice structures, but Within's is the first that's built from the ground up for designing orthopedic implants that will be created with AM.
The software also allows the design engineer or surgeon to control the amount of surface roughness, as well as pore size distribution, thickness, and densities, said Mahdavi. It's also possible to optimize the structure to the loading conditions of implants, varying the stiffness of some areas versus others. The Within Medical software is already in use at 300 companies, from boutique orthopedic companies to larger OEMs. (Watch a tutorial video showing a trabecular cup being designed with the software here.)
For those without direct access to a high-end EOS printer and machining facilities, C&A Tool acts not only as a printing service but also provides tooling and engineering services. The company has six EOS DMLS systems, including both the EOSINT M 270 and the M 280. These print biocompatible materials, such as stainless-steel alloys, cobalt-chrome, and medical-grade titanium, John Halverson, C&A's medical business unit manager, told us. "We also have six years of experience in 3D printing with metals, and are a subtractive manufacturing facility," he said. "We combine AM from EOS with the porous structures created by Within software and secondary processes to make a complete implant going out the door. That includes machining for tolerances or finishes on non-Within surfaces."
The software's file encryption format allows the OEM manufacturer to have more security over the IP they are generating, said Mahdavi. The file's metadata is trackable regarding where parts are being built and how many. This gives OEMs more control over the digital part before it's manufactured, which aids them in navigating the FDA approval process. Although C&A Tool has been licensed to view the file, its employees can't see the formulas used to build the structure, such as strut and pore size.
Related posts: