Kickstarter and Thingiverse aren't the only sources of useful and ingenious DIY manufacturing projects and products. Another is Dragon Innovation, where I found a crowdfunded version of the cockroach-like DASH robot we told you about last year.
The original Dynamic Autonomous Sprawled Hexapod (DASH), a tiny robot modeled after a cockroach, was developed by a team in UC Berkeley's Biomimetics Millisystems Laboratory. Another team from the same lab, together with researchers from the University's PolyPEDAL Lab, built one that can do acrobat-like flips mimicking the movements of cockroaches and geckos and can run across different kinds of surfaces. That effort was led by Professor Robert Full.
Click on the image below to start the slideshow.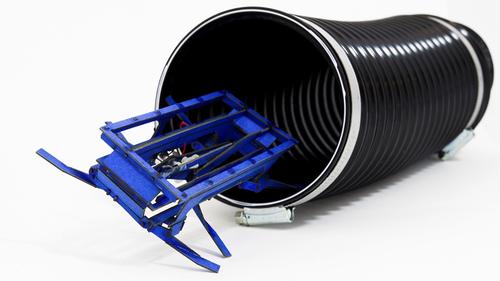 Dash Robotics, made up of doctoral candidates in robotics at UC Berkeley, including the inventor of the original robot, is offering a crowdfunded DIY version of the talented acrobat for engineers, kids, and hobbyists. The project has already surpassed its funding goal. The co-founders' larger goal is to open up robotics to more people by offering the kit as an educational tool and aid to tinkering. They see a need for this because robots today are often big, heavy, and made of way too many components, as Nick Kohut, one of the co-founders, says in a video on the Dragon Innovation page.
The team's DIY hobbyist version has been carefully thought out, and includes several innovations. First, instead of the typical robot material -- metal -- the new Dash DIY Robot is built with a sandwich of cardboard, adhesive, and plastic using a process the team calls smart composite microstructures (SCM). This makes it possible for flexible joints, or hinges, to be made as part of the body, so many moving parts can be laser cut in a single flat sheet. That also makes the robot easier to ship, and users assemble the complex folded mechanism using tabs and slots. The SCM process makes fabrication fast, simple, and easy to modify for design changes. Assembly takes about an hour, and the team posts videos online showing how to do it.
Included in the kit are electronics, a motor, and a transmission. You supply a little Elmer's glue for attaching some of the components. Equipped with a variety of sensors, the Arduino-compatible robot lets users add more sensors and program new behaviors. A free app controls the completed robot from an iOS smartphone or tablet, such as iPhones, iPads, and iPod Touch. Android support is a possibility but not yet certain.
Dash can be built and run with no knowledge of electronics, but it's also been made to be hackable. Included components that can be accessed are gyroscope, visible light sensor, LEDs, IR emitters and sensors, I/O pins for expandability, Bluetooth Low Energy communications, and a Micro-USB connector. The team says it's developing the first commercially available Arduino-compatible controller board that has integrated motor drivers.
Dash Robotics is up front about the fact that their robot is a research prototype and that they're trying to take it into beta with help from the funding of this DIY version. They want to get feedback from users of the 1,000 they expect to build. Estimated ship date is April 2014, and different versions of the kit will be available for $65 and under. You can also get your own Dash built by the founders for a bit more.
Related posts: