You don't necessarily have to go hybrid to deliver high fuel efficiencies and low carbon emissions. Ford Motor Company has introduced its smallest EcoBoost engine, a 1.0-liter version that boasts the power of a 1.6-liter engine. The current EcoBoost engines range in size from 1.6 liters to 3.5 liters.
Ford designed the tiny three-cylinder engine to match or exceed the power of an engine more than half again its size. "We were looking to see if we could deliver the power of a four-cylinder 1.6 engine in a smaller size," Richard Truett, powertrain communications manger at Ford, told Design News. "We did it with direct fuel injections and turbo charging."
The line of EcoBoost engines was developed at Ford's Dunton Technical Center in the UK. This direct-injected engine features a compact, high-performance turbocharger design. The exhaust manifold is cast into the cylinder head, which is intended to lower the temperature of the exhaust gases while in turn enabling the engine to run with optimum fuel-to-air ratio across a wide rev band.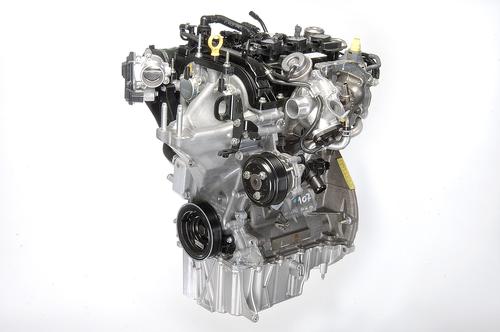 Other features of the small engine include the crankshaft and the cooling system. "The crank is offset -- it's already on the down stroke when it fires," said Truett. "It has a split cooling system -- one for the head and one for the block. It also has a number of other design features that allow us to make a three-cylinder engine as refined as a four-cylinder engine."
The decision to go three-cylinder was a move to help lower emissions and boost mileage. "We only have three cylinders, so there is less CO2 emission," said Truett.
While the engine is too new to have received mile-per-gallon (mpg) certification, Truett believes the 1.0-liter engine will exceed the 40mpg Ford is getting with its larger versions. "We're already getting 40 miles or more with our cars, and we're not going backward with the EcoBoost. It will get hybrid-like fuel economy with a 118 horsepower engine."
Ford will introduce two versions of the 1.0-liter engine in the Focus in Europe in early 2012, one with 98 horsepower and one with 118 horsepower. The engine will come to US shores a year later. "The EcoBoost 1.0 will be in North America for the 2013 model year," said Truett. "We'll use it in small cars all around the globe -- for the Figo in India, the KA in Europe, and the Focus and Fiesta in North America."