3) Medical robots. A different type of remote-controlled mobile robot is the medical variety. HeartLander Surgical Robot Inches Closer to Reality describes a miniature robot that creeps along the surface of a human heart to take measurements and perform simple surgical tasks. This robot solves two problems by gaining access to the heart without opening the patient's chest and operating on the heart while it is beating. Surgical robots are thought by many to be the wave of the future. This trend heralds miniature devices that will probably become more complex and capable of more functionality as the technologies on which they are based get more powerful and less expensive, following typical price/performance curves.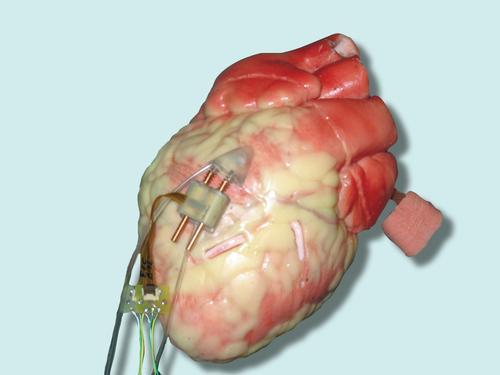 4) Tracking luggage.
In
Smarter Baggage Handling
, we learn about a highly complex, interconnected, synchronized, and automated storage and retrieval system being used at Amsterdam's Schiphol Airport. This huge system conveys and tracks each and every bag at every point in its 21km journey. It integrates the baggage handling system with passenger check-in information and real-time flight information.
It operates six robot cells for automatically loading bags into containers and carts, as well as the redundant storage of the positions of more than 4,200 bags and Destination Coded Vehicles (DCVs). Robots pull bags from storage on demand. To prevent system overload, the robots release bags on the conveyor belt only as needed. Eventually, the airport expects to use robots to handle up to 60 percent of baggage in its south hall to improve working conditions for operators and increase productivity. The system's mind-numbing complexity orchestrates embedded software in the robots, a scheduling program that handles gate changes, and logistics and communications software.




0
Are they robots or androids? We're not exactly sure. Each talking, gesturing Geminoid looks exactly like a real individual, starting with their creator, professor Hiroshi Ishiguro of Osaka University in Japan.

0
NASA is developing Project Morpheus, a vehicle that can lift off and set itself down on planetary surfaces.

4
Google is developing robots for manufacturing, assembly, and warehouse tasks.

31
Microsoft will quit supporting – and patching – Windows XP in April. This may be a cruel development for plants.

5
Truchard will be presented the award at the 2014 Golden Mousetrap Awards ceremony during the co-located events Pacific Design & Manufacturing, MD&M West, WestPack, PLASTEC West, Electronics West, ATX West, and AeroCon.


LATEST ARCHIVED BROADCAST
For industrial control applications, or even a simple assembly line, that machine can go almost 24/7 without a break. But what happens when the task is a little more complex? That's where the "smart" machine would come in. The smart machine is one that has some simple (or complex in some cases) processing capability to be able to adapt to changing conditions. Such machines are suited for a host of applications, including automotive, aerospace, defense, medical, computers and electronics, telecommunications, consumer goods, and so on. This discussion will examine what's possible with smart machines, and what tradeoffs need to be made to implement such a solution.



Datasheets.com Parts Search
185 million searchable parts
(please enter a part number or hit search to begin)