While other lower-end sketch tools or NURBS modelers might also enable someone to create a 3D model of a design pretty quickly, they often have trouble making those models meet the fairly stringent criteria required for output to a 3D printer. "We're helping more people create 3D models that can be easily printed, and by doing so, we're letting those ideas that have been percolating around be brought to market more easily," Backman said.
Autodesk is planting a stake in this emerging segment, as well. The Autodesk 123D family of tools -- 123D Catch, 123D Make, and 123D Sculpt -- is aimed not at engineers, but at people who have a limited knowledge of professional CAD and still have a desire to create objects, potentially for fun, or as part of a "micro business," said Christian Pramuk, Autodesk's product manager for personal design and fabrication products.
Users can sketch conceptual ideas with 123D Sculpt, do basic modeling with 123D, and leverage 123D Catch to convert photos into digital assets that can be output to 3D printers. 123Make provides all of the tools for cutting the digital object model into patterns and preparing it for output.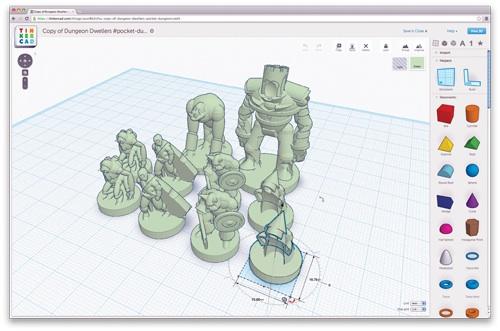 Kevin Lo, a mechanical engineer by day in a large high-tech company, and an amateur innovator by night, is all for the combination of easier-to-use 3D content creation tools and 3D printing as a means to explore new ideas and keep his professional design skills up to date. Using Siemens PLM Software's Design1 low-cost 3D modeler on the Local Motors' Forge automotive crowd-sourcing community, Lo has entered a number of design contests and taken home several prizes, including one for his open wheel design, which was 3D printed.
While Lo is a seasoned CAD user, the more accessible Design1 gave him the opportunity to bring in models from other places to build on and create his own custom designs, and he believes this capability is essential if 3D printing is going to take off as a mainstream technology. "Until there are content creation tools that allow individuals to create what they want, you won't see massive adoption of 3D printing," Lo said.
John Pellerito, owner of Pro Precision Guides, which manufacturers guides for dental implant surgery, can also attest to how the right combination of 3D modeling software and 3D printers can vastly accelerate the design and development cycle.
Pro Precision's traditional design process was time-consuming and involved a lot of guesswork using mold making, manual labor, and radio graphs to get the measurements for the implant guides right. Today, Pellerito has a digital process, leveraging the doctor's intraoral or CT scans of the patient's anatomy to craft the custom implant guide using Geomagic's Freeform organic modeling tool, and eventually outputting the final product on a Objet 3D printer using a biocompatible material.
"I don't have a CAD software background, so Freeform was appealing because we could shape and design anything we wanted to," he said. And what about the combination of the 3D modeling software and the 3D printing? "Time is the hugest improvement," Pellerito said. "Being totally digital relieves me of physically making these things by grinding and mixing acrylics and resins."