The EFX 1624 controller takes information from speed sensors located on the 2001 Dodge Ram 3500 engine, hydraulic wheel motors, and rear axle. It then calculates the flow required from the 72400 pump based on whether the hydraulic motors are in high- or low-speed mode and engine speed.
The controller generates a PWM signal to the EP control on the 72400 hydrostat that strokes the pump to deliver adequate flow to the front wheel motors. Using the reverse input from the automatic transmission, the entire system operates in reverse, as well.
The EFX controller also provides a PWM signal that drives an EFV2 proportional flow control to manage oil flow from the 26000 series auxiliary gear pump. This is a lightweight, aluminum pump displacing 1.77 in3/rev (29.0 cm3/rev). At an average input speed of 1,900 rpm, it produces 14 gpm (53 lpm) of flow at 2,500 psi (172 bar).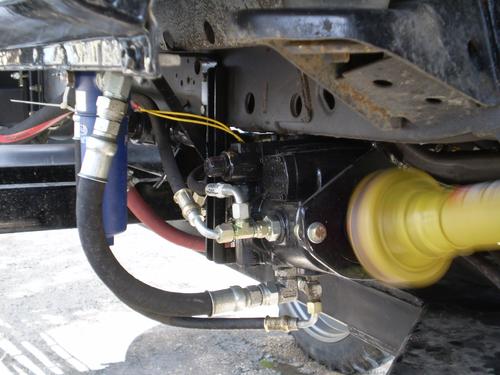 When they started working on the project, it was the first time HyPower had ever used an EFX controller. Aubin said:
"There was a bit of a learning curve involved in the programming. It's pretty intuitive, but getting the proportional–integral–derivative (PID) loop right was a little tricky. The versatility of the F(x) controller allowed us to solve a reasonably complex customer need at the distributor level.
With the control challenge met, HyPower then completed the rest of the system using essentially off-the-shelf components. The 72400 pump is driven directly from the engine using a cogged belt and sprocket system. This pump is a thru-shaft design, and the 26000 pump is mounted to it to produce a simple, compact hydraulic power system. The normal transmission output is used to drive the rear wheels.
The Eaton CONTROL F(x) programming software for the electronic controllers leverages the IEC 61131-3 programming standard, enabling it to combine a wide variety of components. This modular, scalable approach enables re-use of programming code for increased efficiency.
The controllers offer compatible connections to analog inputs/outputs (I/O), digital inputs/outputs (I/O), pulse width modulation (PWM), and current controlled outputs. Communication protocols include industry CANbus standards such as CANopen and J1939. The controllers and cable assemblies are rated at IP67, making them resistant to harsh environments and suitable for both mobile and stationary industrial hydraulic applications.