Access points on industrial networks are often being PoE-powered, as well. In a warehouse, for example, with a fiber link to the access point, a PoE device can provide a conversion from fiber to Ethernet and also power the access point. The key application advantage is covering needs with just one device. Duffy said:
In the industrial market, the move to PoE is a more recent trend driven by the introduction of ruggedized switches with additional power available through the media converters," Duffy said. "One specific feature that is useful to managing a remote device in a hard-to-reach location or a camera mounted on the top of a pole is the ability to remotely reset the power.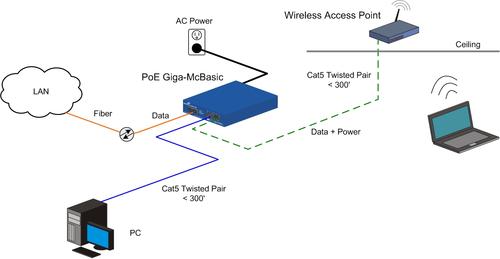 This approach enables remote cycling of the power interface on a device such as a camera that is locked up, or to reset an unmanaged media converter. The PoE reset feature enables turning off the near end device, or the user can unplug the fiber connection and reset the power of the far end. This offers a unique feature that works well with the level of technician commonly managing industrial installations.
Previously limited to 100 Mbps, B&B's next-generation Giga-MiniMc and Giga-McBasic families were developed to meet the growing demand for PoE and PoE+ functionality in a gigabit form, where remote PD devices require power, and the ability to transmit large amounts of data. These high-bandwidth devices are typically deployed for security, kiosks, in offices, and other environments that require power for Ethernet devices.
Related posts:




0
GE is working on a new 3D printing method, known as cold spray, in which metal powders are sprayed from a nozzle at extremely high velocities on metal objects.

1
NASA's Robonauts are being developed for inter-planetary travel, and to take over for astronauts when the work becomes too dirty or dangerous.

13
An industrial robot known for its safety around humans has been programmed to work a checkout lane and choose how it accomplishes certain tasks.

7
Trends in motion control all converge toward greater efficiency in movement, energy, control, and wiring.

22
Are they robots or androids? We're not exactly sure. Each talking, gesturing Geminoid looks exactly like a real individual, starting with their creator, professor Hiroshi Ishiguro of Osaka University in Japan.


LATEST ARCHIVED BROADCAST
For industrial control applications, or even a simple assembly line, that machine can go almost 24/7 without a break. But what happens when the task is a little more complex? That's where the "smart" machine would come in. The smart machine is one that has some simple (or complex in some cases) processing capability to be able to adapt to changing conditions. Such machines are suited for a host of applications, including automotive, aerospace, defense, medical, computers and electronics, telecommunications, consumer goods, and so on. This discussion will examine what's possible with smart machines, and what tradeoffs need to be made to implement such a solution.



Datasheets.com Parts Search
185 million searchable parts
(please enter a part number or hit search to begin)