Robots that fly are usually small. Aside from that shared feature, they vary widely in design and purpose. Some flap their wings or soar like birds, while others are patterned after land animals. Yet others move in ways that are clearly mechanical, such as quadrotors, also called quadricopters, or ornithopters. Many work in swarms, communicating and cooperating among each other to accomplish different tasks.
Flying robots may assist soldiers in battle as an alternative to unmanned aerial vehicles (UAVs), or provide reconnaissance and surveillance for human first responders in post-disaster situations. Others may replace large, imprecise, soil-damaging agricultural equipment for targeted crop dusting, or assemble architectural structures. Many are autonomous, some are remote-controlled, and some can do both: autonomous robots with real-time communication from remote pilots.
Click on the image below to see 11 flying robots in action.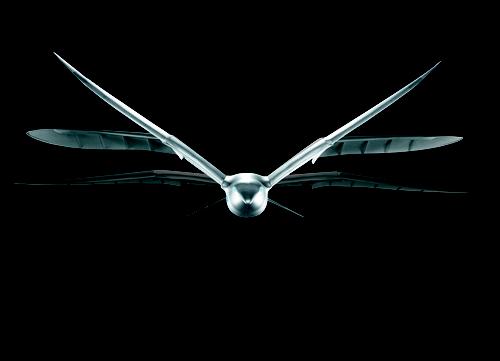 Related posts:




4
We looked at a number of sources to determine this year's greenest cars, from KBB to automotive trade magazines to environmental organizations. These 14 cars emerged as being great at either stretching fuel or reducing carbon footprint.

1
Researchers at MIT and Sandia National Labs have observed a reaction in lithium-air batteries that could help improve the design of these cells for electric vehicles and other applications.

3
Healthcare might seem to be an unlikely target application for the Internet of Things technology, but recent developments show small ways that big-data is going to make an impact on patient care moving into the future.

16
As energy efficiency becomes more and more a concern for makers of electronics devices, researchers are coming up with new ways to harvest energy from sound vibration, footsteps, and even electromagnetic fields in the air.

5
Watch IBM's atomic scale stop motion film about, you guessed it, a boy and his atom.


A quick look into the merger of two powerhouse 3D printing OEMs and the new leader in rapid prototyping solutions, Stratasys. The industrial revolution is now led by 3D printing and engineers are given the opportunity to fully maximize their design capabilities, reduce their time-to-market and functionally test prototypes cheaper, faster and easier. Bruce Bradshaw, Director of Marketing in North America, will explore the large product offering and variety of materials that will help CAD designers articulate their product design with actual, physical prototypes. This broadcast will dive deep into technical information including application specific stories from real world customers and their experiences with 3D printing. 3D Printing is




Datasheets.com Parts Search
185 million searchable parts
(please enter a part number or hit search to begin)