An educational robotics kit developed at Carnegie Mellon University's Robotics Institute is fostering an interest in technology that goes a step beyond simply putting supplied parts together.
The Hummingbird kit consists of a customized control board, along with a variety of lights, sensors, and motors that can be connected to the controller without soldering. With a free, easy-to-learn drag-and-drop environment, students armed with paper, paint, cardboard, and a little imagination can program their creations without prior experience.
"We want students to become inventors of technology rather than users of technology," Illah Nourbakhsh, a robotics professor at Carnegie Mellon, said in a press release. His CREATE Lab developed the Hummingbird for a project called Arts & Bots. "Hummingbird feeds a student's natural curiosity about technology by enabling her to incorporate robotics into something she is making that is meaningful or useful."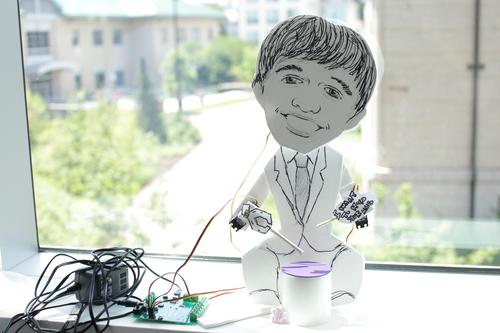 For example, students in West Virginia recently built a working replica of R2D2 from Star Wars. A class elsewhere created a cardboard dragon that turns its head and tries to bite anyone who gets too close. (You can watch a video of this dragon on the next page.)
"The Arts & Bots program is not a robot kit where you open a box and put all the provided pieces together by following a given set of instructions and all the finished robots look and function the same way," Zee Poerio, a teacher at St. Louise de Marillac Catholic School in Pittsburgh, said in the release. Her students used the kit to build a coin monster for the school's ancient coin exhibit. "The Hummingbird provides the students with the ability to make the robots unique not only in design, but in their function."