Daniela Rus, a professor of computer science and engineering at MIT and a principal investigator at its Computer Science and Artificial Intelligence Lab (CSAIL), is working on yet another innovative idea for what robots can do. This one involves tiny robotic pebbles, or cubes, that self-assemble to duplicate an object that is placed in a heap of the cubes. Possible applications include rapid prototyping and replacing parts or objects.
We've discussed the CSAIL before. It is the same lab that came up with the 3D navigating robot, and Rus is leading a joint research project for designing and 3D printing your own robots using regular household materials. The self-duplicating pebble project is from the CSAIL's Distributed Robotics Laboratory (DRL).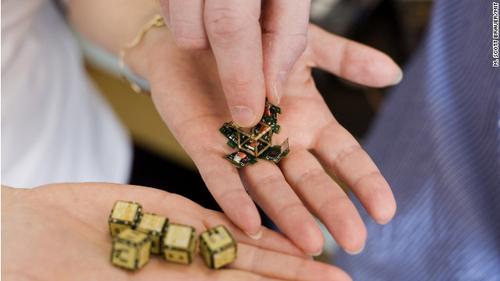 Rus and Kyle Gilpin, an engineering graduate student, have developed distributed algorithms that let tiny robotic cubes (10mm to 12mm per side) communicate about how to align themselves to duplicate an object's shape. After the duplicate object has been used, it can be returned to the heap. The constituent cubes detach themselves and then are ready to form a new shape.
Since the cubes are so small, they have very few computational resources. Each one contains a microprocessor with 32 kilobytes of program code and two kilobytes of working memory, so the algorithms have to be extremely efficient. In a 2D grid model of how they work, the cubes pass messages to one another to determine which ones have missing neighbors. Those cubes are located either at the edges of the heap or at the perimeter of the shape to be duplicated, which is embedded in the grid (or in the 3D heap). The cubes surrounding the shape identify themselves as such to their immediate neighbors and latch on to four neighboring cubes in the same plane. Once the perimeter is established, the cubes outside of it disconnect themselves. What remains is the object formed by cubes within it.
Each cube has an electropermanent magnet on four of its six sides. These magnets communicate, attach to one another, and share power. They can be magnetized or demagnetized with a single electric pulse. Unlike electromagnets, they don't require a constant current to maintain their magnetism. Magnets were left off the other two sides due to space limitations -- the microprocessor and power regulation circuits have to go somewhere. Each cube can support a chain of 80 or more neighboring cubes.
"We've extended this process to three-dimensional shapes," Gilpin said in an MIT video showing how the robot pebbles duplicate complex 2D shapes. "We have run hundreds of experiments to demonstrate that it works reliably and robustly with any original shape."
The robotic pebbles are the second generation of the DRL's Miche: Modular Self-Disassembly system, which originally used much larger cubes (45mm per side). The DRL's Wiki page on the robot pebbles says the team is working on reducing cube size to 1mm per side. The team expects to achieve this by moving to a lithographic method that can build hundreds or thousands of cubes on a silicon wafer.
Related posts: