It's a fact -- Americans spent more than $60B on their pets in 2015. Folks are definitely spending their money on more than dog food. We're spending on things like dog spas and fancy toys, and as you can imagine, the wearables market is becoming well represented here.
Want to find out how much you and your dog are walking? You can try FitBark fitness trackers, designed to allow "dogs and humans to get healthy together." Or how about the canine equivalent of a nanny cam? You can use the HACHIKO activity monitor to ensure that your dog is healthy and is getting enough exercise. (Is my dog walker really taking the dog for a 60-minute walk?) And I really love Scraminal. It uses heat and motion sensors to keep pets out of restricted areas -- like the dinner table, for example. And then there's the Indiegogo-funded startup No More Woof, developed by the creative team at NSID, a small Scandinavian research lab. The No More Woof-ers have built a protoype that you pop on your dog's head; through EEG-sensors, it interprets what your dog is thinking. That SO reminds me of Dug, the "talking dog" in the Pixar film Up, who wears a collar that translates Dug's thoughts into English language. The best thing, of course, is when Dug sees a squirrel.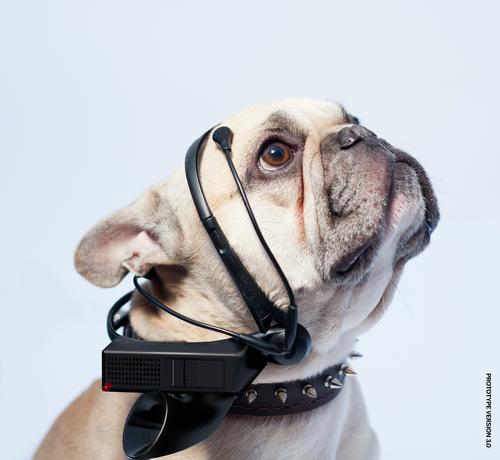 All these applications for pets have MEMS and/or sensors inside of them. And while they constitute a unique use of the technology, they are still nice-to haves not really must-haves. Though I guess I can't argue with a $60B/year industry, there surely are some luxuries that even Fido can't live without. But are these products fads or are they providing real value to the pet (or owner)?
Now consider the MooMonitor+ by Dairymaster, which serves the dairy industry. The MooMonitor+ allows dairy farmers to monitor, from their smartphones, each individual cow's fertility schedule and overall health, utilizing networking and cloud computing technologies. There are 270 million dairy cows in the world, so the potential impact is huge.
In many ways, technologies like the MooMonitor+ are real examples of an Internet of Things (or perhaps, the Internet of Cows, in this case). We talk a lot about IoT but rarely have case studies that demonstrate how IoT devices are saving/making money (in a multi-billion dollar industry) and saving/improving lives (in this case, bovine).
Speaking of large animals, have you ever thought about the value of a racehorse? Horseracing is big money, and much of that value rides on the backs (excuse the pun) of the racehorses themselves. A horse bred for racing can be valued in the millions, and its health is part of their ROI to the owner. At MEMS & Sensors Industry Group's last MEMS Executive Congress, I recently learned about Pegasus Equine Technology, developed by Horse Sense Shoes. Pegasus Equine Technology tracks a horse's postures, gate and other variables. By using the combination of an accelerometer, gyroscope, magnetometer, temperature sensor, and pressure sensor, Horse Sense creates real-time biometrics to monitor the health of high-value horses. The biometric technology can tip off the vet before there are life-threatening issues (to both horse and jockey). The Pegasus is attached to the underside of the horse's tail to best monitor the biometrics. Apparently horses don't enjoy getting their temperature taken with a rectal thermometer, so the Pegasus is a HUGE improvement for everyone involved in monitoring a racehorse's health.
The placement of the Pegasus device brings up an interesting topic often bantered about in the wearables space. Where is the best place for a wearable? It's the place where you don't realize you're wearing it. For a racehorse, it might be the inside of the tail. For a dog it might be around the collar. So what's the equivalent perfect spot for a human? Perhaps we don't need to get too specific but I would warrant that it should be in a place or in an article of clothing that has the highest biometric advantage and is neither invasive nor annoying. I look forward to the day one of those exists for people like me.
But even before we decide where the best location is for any animal, we still have some challenges to address in this Internet of Animals. Power management and creation are still big un-cracked nuts, as battery technology is remains quite ancient, given our advances in other areas. Security is also important; if I am running a multi-million/billion dollar farm, I want to ensure that the data I am transmitting is secure and un-hackable. Likewise, standards and interoperability are also critical because we would want to guarantee that all the devices are truly connected and are managed efficiently in the cloud.
This gets us to our last nut to crack -- analyzing all the data that our MEMS- and sensor-laden animals provide: How will we both extract and manage all this data? Yes, we are still talking about animals, but as with any IoT scenario, we need to address all of these issues. Fortunately, we can learn more about the technical challenges of applying MEMS/sensors to human-centric IoT devices by observing what's being done with them in the animal kingdom.
With all of this thinking about animals, I am starting to believe that it may be a good idea to become a vegetarian – or at least take my dog out for a long walk.