Researchers at Disney have developed a technology that can generate enough energy from the movement of a fingertip to light a string of LEDs or to control lights or other electrical components on e-paper or printed materials.
The Paper Generator -- developed primarily by Disney Research scientists in Pittsburgh -- relies on the placement of a sheet of polytetrafluoroethylene (PTFE), more commonly known as Teflon, between two thin reactive layers of material like metalized polyester that act as electrodes. Researchers Mustafa Emre Karagozler, Ivan Poupyrev, Gary Fedder, and Yuri Suzuki describe the new technology in this paper. It seems like an energy-harvesting version of touch technologies used in mobile devices. The user rubs, taps, or slides a finger over the materials to generate electricity.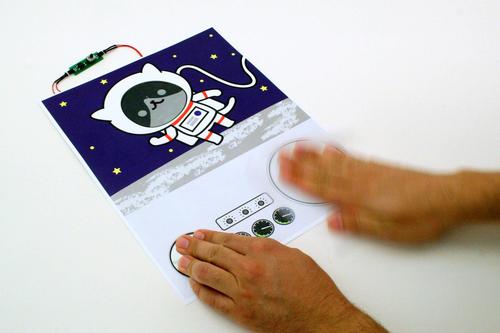 A key component of the technology is the leveraging of electrets (materials with electrical properties) already used in microphones and MEMS devices. When the reactive paper layer rubs against the Teflon sheet, an electrical charge accumulates. If the electrons move relative to one another against the Teflon -- the action caused by the rubbing or sliding -- it generates a small current that can power a number of devices, the researchers wrote in their paper.
The operation of the Paper Generators relies on the movement of the two conductive sheets relative to each other and the electric field source, i.e., PTFE. As the relative positions of the sheets change, the distribution of the induced charges, the electric field, and the total capacitance between the sheets change, resulting in an electric potential difference between the conductors... Hence, the mechanical movements of the sheets and the field source are converted into electrical potential energy that can do work.
Poupyrev, director of the Pittsburgh interaction group for Disney Research, told us in an email that the Paper Generator can eliminate the need for power sources for some small devices, such as infrared communication devices or LED displays. This would make it easier for designers to add visual and audio technology to printed and e-paper materials. "We can imagine any number of ways to use this to add sights, sounds, and other interactivity to books and other printed materials inexpensively and without having to worry about power sources."
He would not discuss how Disney will employ the technology.
Related posts:



Samsung's Galaxy line of smartphones used to fare quite well in the repairability department, but last year's flagship S5 model took a tumble, scoring a meh-inducing 5/10. Will the newly redesigned S6 lead us back into star-studded territory, or will we sink further into the depths of a repairability black hole?

1
Fifteen European research centers have launched EuroCPS to help European companies develop innovative products for the Internet of Things.

1
In 2003, the world contained just over 500 million Internet-connected devices. By 2010, this figure had risen to 12.5 billion connected objects, almost six devices per individual with access to the Internet. Now, as we move into 2015, the number of connected 'things' is expected to reach 25 billion, ultimately edging toward 50 billion by the end of the decade.
NASA engineer Brian Trease studied abroad in Japan as a high school student and used to fold fast-food wrappers into cranes using origami techniques he learned in library books. Inspired by this, he began to imagine that origami could be applied to building spacecraft components, particularly solar panels that could one day send solar power from space to be used on earth.
Biomedical engineering is one of the fastest growing engineering fields; from medical devices and pharmaceuticals to more cutting-edge areas like tissue, genetic, and neural engineering, US biomedical engineers (BMEs) boast salaries nearly double the annual mean wage and have faster than average job growth.

Focus on Fundamentals consists of 45-minute on-line classes that cover a host of technologies. You learn without leaving the comfort of your desk. All classes are taught by subject-matter experts and all are archived. So if you can't attend live, attend at your convenience.
Last Archived Class