In just a few short years, plants have changed completely. Factories are no longer loud, clanging, dirty, and inefficient. New technology has increased the plant's intelligence, turning gears and cams into software, and greatly lowering energy use and maintenance costs. Computer virtualization now allows plant operators to design and validate plant operations before ordering the machines. A big part of the plant's transformation comes down to controlling motion.
Servo technology reduces costs
Servo technology has created a significant opportunity for plants to simplify motion control while gaining increased flexibility and reduced energy and maintenance costs.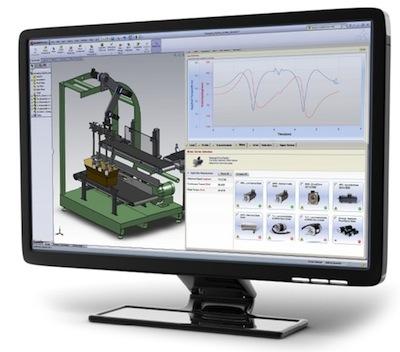 "The general value proposition of servo technology is the flexibility, energy efficiency, and reduction in maintenance costs," Mike Cromheecke, marketing manager of the Kinetix Motion Business at Rockwell Automation, told Design News. "If you look at the history of machine design, here was one singe power source for the entire machine through chains and cams and gears. Variable speed motors and smaller motor size have reduced maintenance. You're no longer turning all that metal, which reduces maintenance costs and reduces energy use."
Servo technology lets the plant dispense with the heavy, inefficient machinery in favor of lightweight flexible machines. "A big part of the equation is to synchronize varied axis and control highly complex multi-axis machines," said Cromheecke. "Before, this was coordinated through cams, gears, and linkages. We replace that with a servo drive."
As well as making machines more lightweight, servo technology also allows changes to be made through software rather than the cumbersome process of configuring hardware. "We're shifting from mechanical to electronics. We're replacing gears and cams for multiple motors," Christian Fritz, senior product manager for robotics at National Instruments, told us. "The machines are getting more and more integrated. One of the trends is direct drive motors, which are replacing mechanical systems. Instead of gears, you bolt a motor directly on to the machine. We partnered with a servo motor company, and they're driving direct line motors."
Running a single network
In the past, plants were run on multiple networks loosely integrated. The need for increased efficiency has pushed plants into creating a single network. "The old network is being replaced by network-based servo motion control on industrial networks to reduce wiring," said Cromheecke. "That allows the axis to grow without more wiring. It also allows a single programming interface to program multi-axis synchronized programs. You can quickly reconfigure a machine and changeover to reset the machine."
A single network makes it much easier to shift from one product configuration to another. "One of the other tremendous benefits of a single network is the increase in flexibility for quick changeovers," said Cromheecke.
Improvements in software and servo systems that run on a single network make it easier for machine builders to customize their products for the individual plant. "You can do motion control and machine control, into one control system. Machine builders are getting smarter about their systems," said Fritz. "They try to create the ability to add individual components based on the customer's demand. They can leverage the components they design while customizing for the customer."