"For our test, we took power resistors and placed them at various orientations to understand different boiling affects," Weiss said. "The resistors used for testing are rated for 260W in a typical air-cooled heat sink-mounted arrangement, where in the dielectric fluid, we obtained power levels close to four times the rated power of the devices without destroying the device."
The SiC Module circuit card and the module were submerged in the Novec, but since the fluid has a dielectric constant that is nine times that of air, surface currents hindered the system from running for long periods of time. The design team developed an inductor for the overall 150kW design and tested that in the fluid. But they were unable to obtain boiling at 200A of power, which was the limit of the supply.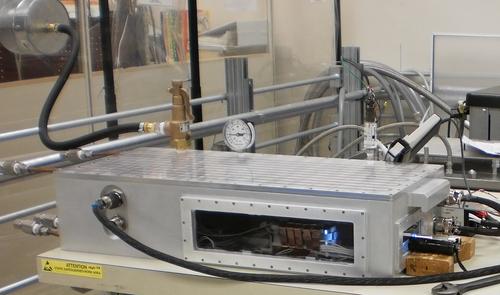 To further the investigation into the reduction of the inductor, Moog performed the same test on a copper strip 4.5 inches long, 0.5 inches wide, and 0.0014 inches thick. This piece of copper, which would have vaporized in air well below the 200A level, was boiling in the Novec and remained at a stable temperature of 55C. These results led to a reduction in the size of the inductors and the overall filter, he said.
With the information from testing, compared to our 10kW design, we developed a controller capable of handling 15 times the amount of power and is smaller in volume by approximately 500 cubic inches. Although we found a tremendous benefit in submerging inductors in fluid, one other area that we saw a benefit in our testing is the dielectric fluid helped maintain extreme explosive arcs. The fuse industry could also benefit from the utilization of the Novec fluid.
Related posts: