Orchard said it is a subtle difference but it affects design and layout, and highlights how this approach is different compared to using conventional HMIs. The result is that this new product represents a new approach to using mobile apps or web apps as an operator interface.
The groov system consists of two parts: the box and the groov apps, which consist of groov Build for building screens, and groov View, where customers would look at screens they have developed and data on their process -- plus groov view apps for iOS and Android devices. To build mobile-ready, server-centric automation monitoring and control applications, there is a lot of software involved. There are also many different types of code including HTML, PHP, and MySQL, which require the skills of a web developer proficient in many web technologies (HTML is not enough), plus an IT professional who can help with Linux coding, routing, and the web server side of the development.
There is also a need for a controls engineer to help out with control tags, connections from the controller to the web server, and other issues. "It is too much for one person to be an expert in all of those things," Orchard told us.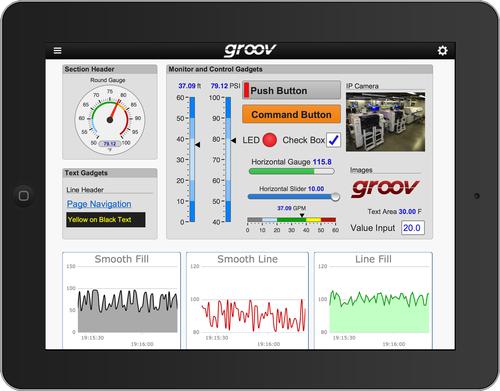 With the new Opto 22 solution, all of these technologies are applied in the appliance that works in conjunction with a web browser. Using the web browser means information can be viewed by anyone, anywhere on computers, smartphones, or tablets. Instead of being Windows-centric, the door is also open to MAC and Linux users to build an interface into their process. Orchard said:
How we expect the appliance to be used is for the box to be connected to a company's automation network. By interfacing the machine network, the groov box can see the controllers, tag names, and digital I/O, for example, and start polling the data. Users can connect using the browser to get up and running. Security is built into the appliance, and all of the connections between the browser and the groov box is done over 256-bit encryption using SSL technology.
On a wide area network (WAN), the technology recommendation is to use VPNs that provide encryption because the connection that needs to be encrypted is between the groov box and the web browser, not between the appliance and the automation controllers (PLCs or PACs) within the factory.
What Opto 22 is finding is that there is a full spectrum of potential uses for the technology. Some customers say the functionality will augment existing HMIs and provide an ability to put together custom screens, in-house to use an iPhone, for example, for after-hours monitoring. Other OEMs say they are going to mount iPads or Android tablets on their machines as a low-cost HMI solution. The ability to access a machine on the network using an IP address is a powerful way to tap into process information and data.
At the machine level, users can make variables available using IP addresses for their machines.
Related posts: