Keeping track of all our possessions is more difficult now than ever. Our days seem to be getting busier and more cluttered. Not only do I struggle with gear I already own, but there is also a constant stream of junk being sent to my house weekly.
Even worse than misplacing something is opening a package to discover it has been mistreated. That starts a blame game among me, the delivery service, and the company from which I ordered the object. Tiny devices like the StickNFind offer ways to keep track of current belongings. But devices that could help make sure my package is treated carefully usually consist of complex, expensive sensors or simple, unreliable analog mechanisms.
Cambridge Consultants has found an answer that is simple but adds the reliability of electrical sensors. The company has managed to combine a low-power Bluetooth transceiver, an accelerometer, and a memory chip that keep an eye on your fragile parcel. A single coin battery powers the device. Now you can verify that the parcel is OK before you sign for it.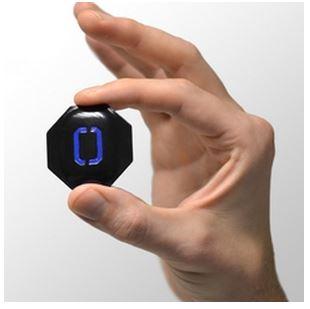 The device is called the DropTag and is featured in the video below. It is simple to use and can be checked at every step in the delivery process, as long as you have a smartphone with the DropTag app. The app tells you immediately if the package has been dropped. The DropTag also stores data from the trip, and it can show you a graph with the history of the g forces exerted on the package above a certain threshold. It could even process this in real-time if you are close enough to the device, which has a 50m indoor range.
Adding to the simplicity and potential of this device is the cost of manufacturing. DropTags cost only $2, opening the door for different options for consumers, delivery services, and e-companies. It could entice some companies or services to offer customers a DropTag option for a small fee. Companies and delivery services will have to evaluate the time saved by not delivering damaged packages, and thus avoiding the snowball of blame and return deliveries.
Cambridge Consultants wants to make the device reusable, so consumers can buy them to send fragile goods, or they can keep devices that come with a package. The company is also considering adding thermometers and other sensors for tracking deliveries like produce or meat.
The company is marketing the product to e-commerce companies and delivery services at this year's Hannover Messe technology fair. I would expect to see them on parcels or as a delivery option in the near future.
Related posts: