We just posted some new products to the Product Showcase that we think you will be interested in.
First, Tolomatic's ERD electric cylinders with optional reverse-parallel motor mounts are useful in applications that require washdown protection or resistance to corrosion. The reverse-parallel design offers a belt reduction drive allowing for flexibility in motor sizing.
Next are Osram Opto Semiconductors' Displix Black & Displix Blackprint Multichip LEDs for use in outdoor displays, which typically experience harsh conditions. These LEDs offer high resolution and intensity while withstanding high humidity levels, changes in temperature, and heavy rain.
Finally, Banner's SureCross B2Q Gateway module, for use with their SureCross Q45 wireless sensor family, offers a cost-efficient design with a single board and wireless modular controller.
Tolomatic ERD Electric Rod-Style Actuators With Reverse-Parallel Motor Mounts
Tolomatic's stainless-steel ERD electric cylinders with optional reverse-parallel motor mounts are for food and beverage and washdown environments, where corrosion resistance, compact size, and flexible motor sizing are important features. The reverse-parallel motor mount reduces the length of the actuator to fit in tighter spaces, and belt reduction options offer flexibility in sizing the motor. In addition to presenting a more compact package, the addition of a rear clevis pivot mount provides greater mounting versatility.
The ERD is an economical rod-style electric actuator series designed as an alternative to pneumatic cylinders and an option for automating manual processes. The stainless-steel construction options are suitable for a wide variety of food and beverage applications, including volumetric filling, slicing, cutting, product changeovers, diverting/sorting, and packaging. The actuators can be built to order in stroke lengths up to 24 inches (609.6mm) and shipped in five days.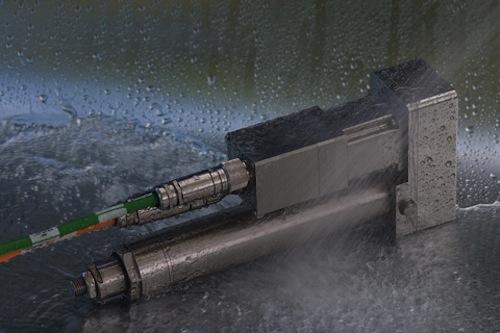 The ERD electric cylinders with reverse-parallel motor mounts are available in two body sizes that are approximately equivalent to 1.5-inch (38.1mm) and 2-inch (50.8mm) bore pneumatic cylinders. The actuators are available with forces up to 500 lb (2,224 N) and speeds up to 40-inch/sec (101.6cm/sec). The ERD in the reverse-parallel configuration is compatible with most NEMA and metric mount stepper and servo motors to create a flexible, powerful electric actuator solution.
All ERD products are round bodied. The rear head of the actuator features an oversized main bearing to accommodate high thrust loads and provide long life. The main tube and thrust tube are made of stainless steel for high rigidity and corrosion resistance, while the metric-threaded nose mount accepts a jam nut that provides convenient mounting for many applications. Mounting options include a rear trunnion mount, foot mounts, or a front flange mount.
The ERD electric cylinders can accommodate six different sensing or switching choices: reed, solid state PNP (sourcing) or solid state NPN (sinking), normally open, flying leads, or quick-disconnect. The switches are activated by a standard internal magnet located inside the thrust tube. Commonly used for end-of-stroke positioning, these switches allow clamp-on installation anywhere along the actuator tube. All switches are CE rated and are RoHS compliant for environmental compatibility.
Displix Black & Displix Blackprint Multichip LEDs
Osram Opto Semiconductors developed the new Displix black and Displix blackprint multichip LEDs to meet the unique environmental demands of large-format outdoor displays typically used at rock concerts, sporting events, or for perimeter advertising. These robust, high-contrast, and high-power LEDs can withstand high humidity levels, wide fluctuations in temperature, and even torrential rain.