People have been establishing farms for population sustainment for more than 10,000 years (give or take a decade or two), and as the population grows so does the need for increased farming. The earth is slowly running out of suitable land that can be used for growing crops, which has forced farmers to think about efficiency rather than more acreage.
"Intensive farming" (low crop rotation through the use of heavy labor and/or chemical fertilizers relative to overall land area) is fast becoming the norm as the method results in increased crops on the same amount of land as traditional farming (subsistence farming). One way to achieve increased efficiency is to employ robotic farmers and automated tools, which never get tired. Not to mention bots achieve a level of precision that can't be matched by their human counterparts. One of these new agriculture robots achieves efficiency by combing the area inch by inch, seeking the best variety of soil, nutrient wise, that matches the crops.
Click on the image below to see these machines.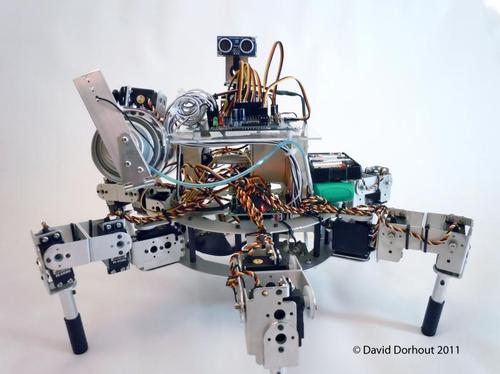 Designed by David Dorhout of Dorhout R&D LLC is an autonomous micro planter that looks somewhat like a mechanical spider, crawling and planting various kinds of seed in ideal locations for that particular crop. The robot is controlled by a Parallax Propeller 8-core micro-controller mounted on a Propeller protoboard, which is housed on Lynxmotion AH3-R hexapod Walker (18 servos with 3-DOF per leg). The robot uses an ultrasonic "ping" system to avoid objects and other obstacles without turning (side-steps rather than turning to traverse a different direction).
Housed under the robot is a sensor array that measures distance, depth, and if a seed has already been planted at that location. The robot is outfitted with a drilling aperture that it uses to dig a hole at a precise depth, after which it deposits the seed, buries it, and then applies (sprays, actually) a fertilizer along with a marking agent that's used for other robots (and humans) to identify where a seed has been planted. It's able to accomplish these tasks through specialized "swarm" and game theory programming that also allows the robot to communicate with others of its kind.
Prospero uses LEDs to speak to other robots in the immediate area and uses a green LED to signal it needs assistance with planting in that area or flashes a red LED to signal that the area has already been covered and to move on to a different section of the field (via an IR LED). Imagine a whole field being drilled and seeded by swarms of Prospero robots working around the clock, and the term efficient becomes an understatement. While these spider-like robots are excellent for planting, they're lacking in irrigation, pest, and weed control, which is where another robot excels.
The Hortibot, created by the Danish Institute of Agricultural Sciences, is a Dvorak ILD 02 slope-mower at its core, featuring a Kawasaki FS 691 V engine (24 HP), outfitted with a series of tools that can benefit several aspects of farming. With a forward-facing camera, it's able to autonomously traverse rows of crops based on its configuration (columns and other geographic patterns) starting from one corner. Once it reaches the end of one column, it can turn, using a gyro sensor, and drives down the next row until it reaches the end of the field or area.