The newly formed Open-Source Robotics Foundation (OSRF) wants to take robotics development into the future as fast as possible, and says it will support the development, distribution, and adoption of open-source software for use in robotics research, education, and product development.
Open-source robotics software already exists as the Robot Operating System (ROS), one of the most widely-used robot software platforms. Similar to Linux on a much smaller scale, ROS is an ecosystem consisting of modules, libraries, and tools, and the people who contribute and use them, Brian Gerkey, chief executive officer of the OSRF and director of open-source development at Willow Garage, told us.
The OSRF's role is a legal entity that can act as a steward of the ROS community, a focal point for people interested in ROS, and a nexus for government agency and corporate funding, said Gerkey.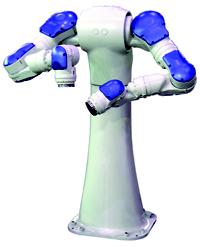 Begun and supported by Willow Garage, ROS was designed for the research community. An example is the ROS-based, university-developed Raven II surgical robot research platform, which combines ROS-based software with university-developed hardware to help accelerate surgical robot development.
After satisfying the needs of that community, Willow Garage started looking at how to make the infrastructure useful to robot makers. "So we focused more on documentation, user interfaces, and more outreach to users in companies," said Gerkey. "Now there's a handful of companies shipping robots with ROS inside." The organization turned to industrial robot makers' needs with ROS-Industrial, which combines proven industrial robotics with open-source robotics code, such as standardizing the interfaces to industrial robot arms.