A major area of robot research and development comes under the category of biomimetics, or biomimicry, which looks to nature for inspiration. Some robots resemble different kinds of animals. For example, Boston Dynamics' Cheetah has broken legged-robot speed records at 18mph. (It can't match a real cheetah's 70mph.) The company is well known for its pioneering development of robots that use motions based on animals to run and maneuver, such as the BigDog.
Many robots modeled after animals are developed for military and first-responder applications. They can be based on insects, like the University of California, Berkeley's OctoROACH; worms, like MIT's Inchworm; and even jellyfish, like Virginia Tech's Robojelly. Many have similar applications, and some have similar funding sources. They are designed for reconnaissance, surveillance, and the ability to go where humans can't -- sometimes in tiny spaces, sometimes in dangerous territory, and sometimes in rugged or unusual terrain.
Click on the photo below to see a slideshow of 10 of these creepy-crawly robots.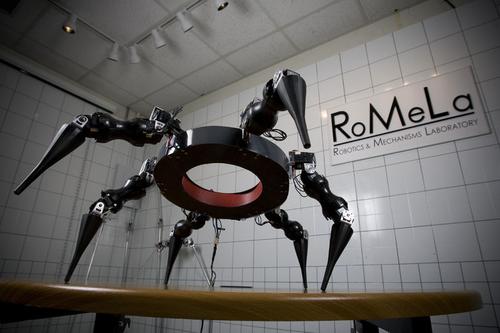 Related posts:




1
GE is working on a new 3D printing method, known as cold spray, in which metal powders are sprayed from a nozzle at extremely high velocities on metal objects.

1
NASA's Robonauts are being developed for inter-planetary travel, and to take over for astronauts when the work becomes too dirty or dangerous.

15
An industrial robot known for its safety around humans has been programmed to work a checkout lane and choose how it accomplishes certain tasks.

8
Trends in motion control all converge toward greater efficiency in movement, energy, control, and wiring.

25
Are they robots or androids? We're not exactly sure. Each talking, gesturing Geminoid looks exactly like a real individual, starting with their creator, professor Hiroshi Ishiguro of Osaka University in Japan.



Datasheets.com Parts Search
185 million searchable parts
(please enter a part number or hit search to begin)