The century-old concept of the "split-cycle" engine may be on the verge of a comeback, thanks to an engineering company that has put a new twist on the old technology.
If the latest claims by Scuderi Group are accurate, the technology could shake up the auto industry and provide some competition for today's alternative fuel vehicles. Scuderi executives say its split-cycle concept is boosting fuel efficiency by 20 percent to 30 percent (and that figure could ultimately reach 50 percent) while reducing emissions.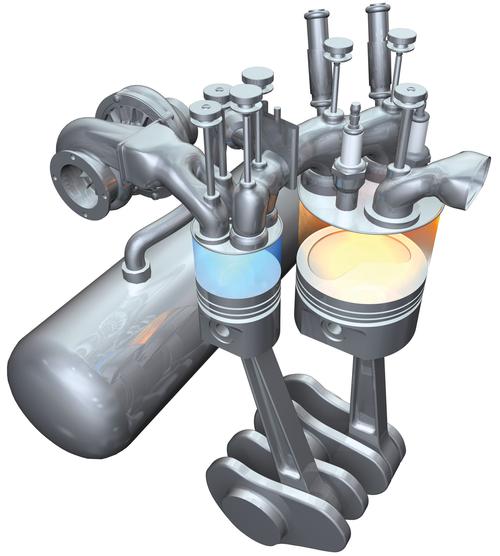 The concept, believed to have been patented as far back as 1912, has long lacked the technical appeal of the age-old Otto cycle engine. Split-cycle engines separate a cylinder's four strokes -- intake, compression, power, and exhaust -- between a pair of cylinders. One cylinder performs intake and compression, while the other is dedicated strictly to power and exhaust. In essence, one side of the engine acts like an air compressor, and the other side produces the power. Air travels between the sides through a "crossover passage."
In theory, this all sounds good, because it enables the engine to do all its work in one rotation of the crankshaft, instead of two, as a conventional four-stroke does. However, split-cycle efficiency was never very good until Scuderi changed a key part of the combustion process.
"We found that if you split the cycles and fire like a normal engine, the efficiency level will never match that of a conventional engine," Sal Scuderi, president of Scuderi Group, told Design News. "But if you fire after top dead center, the efficiency exceeds that of a conventional engine."
Scuderi Group also enhances that efficiency by adding a turbocharger to the equation. The turbocharger uses energy from the exhaust to reduce the size of the compression stroke. As it pulls more energy off the exhaust, the compression stroke gets smaller, and engine size shrinks.