As wearable devices become more and more numerous, they are going to need convenient new power sources so we don't have dozens of chargers plugged in around our homes. The efforts toward pursuing a solution to this problem generally fall into two areas: means of generating, or harvesting energy on the go, and a way of storing that energy that goes beyond what we think of as batteries today.
A team at Drexel University has developed a "capacitive yarn" essentially tranforms fabric into an energy storage device by embedding functional materials into textile fibers at the molecular level. This was made possible through a process called natural fiber welding (NFW), which was developed by Paul C. Trulove at the US Naval Academy, who collaborated on the project.
Project leader Dr. Kristy Jost, a materials scientist, first begain work on the capacitive yarn as a grad student. "If energy textiles are going to be realized, figuring out the best way to functionalize our yarn is the first step," Jost said in a press release. "Natural fiber welding is proving to be highly effective in producing yarns that we can tune for particular uses, including energy storage."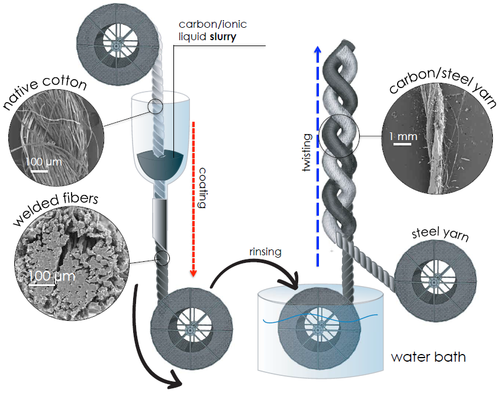 The yarn is treated with a molten salt, causing it to swell. This opens up the structure, allowing the functional materials, such as activated carbon, to be embedded from a mixture carried in an ionic liquid. The yarn is then pulled through a needle, which presses the carbon into the fibers. After the ionic liquid is rinsed off, the yarn is then twisted with a highly conductive stainless steel yarn. The finished fiber retains its original flexibility but with added electrical capacitance that can be used for storage.
"What's unique about this process is that we can use any commercially available yarn made of cellulose—cotton, linen, bamboo, viscose, rayon," said Genevieve Dion, director of Drexel's Shima Seiki Haute Technology Laboratory, and one of Jost's advisors. "This adds another level of tune-ability, since we can weld thick or fine yarns, containing longer or shorter fibers, which can lead to textiles with unique mechanical properties. We use activated carbon for much of our research because it tends to be skin-friendly and is commonly found in water filters. The yarn could be embedded with a variety of carbon nanomaterials, but we're looking ahead at making a wearable garment, so concerns like skin irritation come into play."
MORE FROM DESIGN NEWS: The 4 'Things' Driving Innovation in Wearable Technology
According to Dr. Jost, Immidazolium Acetate is used for cellulose based materials. "Our collaborators at the US Naval Academy in the lab of Prof. Paul C. Trulove, found that different ionic liquids can dissolve different types of natural fibers that cannot be melted like polyester or nylon. They also use NFW on silk and wool."
The ionic fluids can be expensive, but costs will come down with scale. "One way to cut down on the cost, is to recover the ionic liquid after the NFW process is complete and separate it from the leftover carbon particles and water," Jost told Design News.
The NFW capability can be used to embed just about any type of particulate, including other conductive or magnetic materials. This allows new functionality to be added to a cotton fabric, which can also benefit from increased strength as a result of the welding.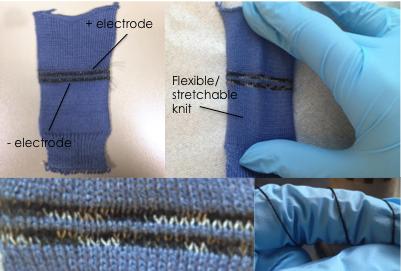 Moving foward, the team will be challenged to optimize the functional properties, in this case, electrical capacitance, while also maintaining sufficient flexibility and strength to enable knitting, something that the carbon fibers had difficulty with. On this point, Jost added, "We believe that the longer fibers found in bamboo, linen, and viscose yarns contributed to their strength and made them less likely to pull apart during the knitting process." Those issues continue to be addressed.
The use of natural fibers for electrical energy storage seems to be an idea whose time has finally come. PowerJapanPlus recently released a new high performance electric vehicle battery that utilizes modified cotton in both electrodes.
"Cotton is highly hydrophilic, meaning the electrolyte (salt water) is attracted to the electrode materials," Jost said. "It also acts as an inexpensive scaffold for carbon electrodes, making them more durable over time."
The next thing is; once you've filled your closet with capacitive shirts, and chosen the color and style you want to wear to work today, how are you going to charge it up to keep your many wearable devices running smoothly?
Jost said, "Like conventional batteries and super-capacitors, they only store the energy; a separate energy source would be required to initially charge the device."
Fortunately developments are already happening in the area of wearable generators as well. A company called Bionic Power, for example, has developed the Power Walk system for US and Canadian military clients as shin guard-like devices that harvest energy from the wearers' movement.
MORE FROM DESIGN NEWS: Flexible Solar Cell Can Be Woven Into Energy-Harvesting Fabric

RP Siegel, PE, has a master's degree in mechanical engineering and worked for 20 years in R&D at Xerox Corp. An inventor with 50 patents, and now a full-time writer, RP finds his primary interest at the intersection of technology and society. His work has appeared in multiple consumer and industry outlets, and he also co-authored the eco-thriller Vapor Trails.