Researchers at the University of Colorado at Boulder are developing small, swarming robots -- dubbed by the team as "droplets" -- that will be able to accomplish a variety of tasks. Possible uses include building a space station or a satellite, self-assembling into a piece of hardware after being launched into space, or cleaning up an oil spill on Earth.
Swarm robotics is a fast-changing, quickly growing area of robotics research and development. We've reported on a swarm of "hedgehog" robots being developed by Stanford University to explore space, and swarms that can play Beethoven, or repair coral reefs. We've also reported on the robotic self-assembling pebbles developed in Daniela Rus' Distributed Robotics Laboratory at MIT, where the leader of the University of Colorado team, Assistant Professor of Computer Science Nikolaus Correll, did post-doc work.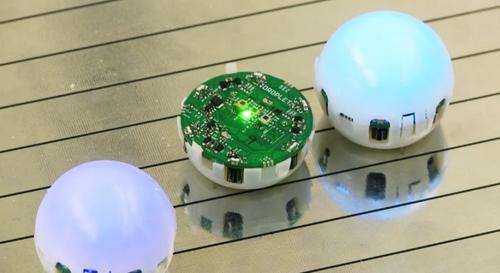 The University of Colorado team has built a swarm 20 strong. The droplets form a "liquid that thinks" when they swarm together, said Correll in a press release. He plans to use the swarm of robots to demonstrate pattern recognition, sensor-based motion, and adaptive shape change, as examples of swarm-intelligent and self-assembly behaviors. These behaviors could then be transferred to much larger swarms that could carry out more complex tasks in water- or air-based environments.
The computer science research team also includes research associate Dustin Reishus and professional research assistant Nick Farrow. Together, the team has designed a basic robotic building block.
The platform will eventually be reproduced in large quantities for developing increasingly complex systems. Correll hopes to create a design methodology that will allow the swarm of robots to work as an aggregate in more complex behaviors. These might include assembling parts of an aircraft or a large space telescope.
In a video that describes the team's research (watch it below), Reishus says 10 of the droplets are now working and some of the software is written, but the robots aren't solving any useful tasks yet. "We are still just testing each individual robot, getting the very low-level communication between two robots working."
Reishus says that, after the droplets are completed, the team will have a platform that can be used for conducting various experiments with swarm robotics, whatever those might be.
Those experiments will probably be thought up by students working in a lab Correll has set up. There, students can use basic, inexpensive tools to explore and develop new applications for the robots. He expects that this will help accelerate the pace of development. The lab's research focuses on intelligent distributed systems, including sensing, actuation, computation and communication.
Aside from robotic swarms, researchers are working on large-scale, outdoor robot teams and smart materials.
Related posts: