Fiber optics
A second option is fiber optic cable. There are two kinds. The cheaper option, multimode fiber optic cable, uses LED light and can carry data several miles. Its long-range cousin, singlemode fiber optic cable, transmits with a laser. It's more expensive than multimode cable, as are the associated transceivers and receivers, but it has the ability to transmit data over great distances. Telephone and cable companies use it for their long-haul applications.
Both kinds of fiber optic cable provide far more bandwidth than copper wire, and they're impervious to EMI interference, because the data is carried on a beam of light, rather than copper. This is invaluable in industrial applications, for example, where the electric motors on the machinery can generate powerful magnetic fields.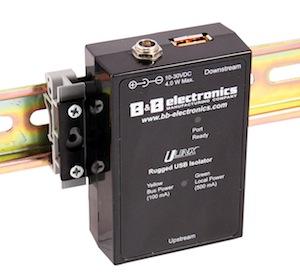 Given that labor costs typically represent the largest expense in a cabling installation, it often makes sense to go straight to singlemode fiber, even if its capabilities exceed requirements. Considering the rapid growth of vision-based sensor systems and their ever-increasing need for bandwidth, starting with a fiber optic installation may soon turn out to be a very wise investment.
What happens when cabling isn't a practical solution?
One solution to the range issue is 802.11, which has evolved far beyond the coffee shop hotspot. Today's WiFi can provide robust IP-based connectivity out to thousands of meters. Using a pair of 802.11-based wireless Ethernet bridges, a local sensor network can be easily bridged back to a SCADA system or enterprise location. Some wireless bridges can even connect at distances of many kilometers while maintaining connectivity rates well into the tens of Mbps -- enough to handle even high-bandwidth, vision-based sensor systems.
In many cases, sensor manufacturers are embedding WiFi directly at the sensor level. Rather than making the engineering and compliancy investment to develop devices of their own, they often prefer to make use of precertified WiFi modules from reliable suppliers. The trends in WiFi are exciting: increasing range, increasing robustness, and improvements in power management.