We've written about several different robot swarms, such as the team that played Beethoven, another group that danced to light and music at Cannes, and a third that's worked as a construction gang. A new swarm from Stanford University, working with NASA's Jet Propulsion Laboratory and the Massachusetts Institute of Technology, joins a different class of robots that are helping to explore space.
The swarm consists of a mother craft described as the size of a coffee table (does anyone still have those?), and smaller rovers that look like white spheres with all-over Mohawks, measuring just under 20 inches in diameter. The Stanford-led team is developing the mothership-rover system to explore moons and asteroids. The mothership would carry one or more rovers, dubbed "hedgehogs," to their destination, disgorge them, and orbit the moon or asteroid while the hedgehogs do their jobs. All craft would be powered by solar panels.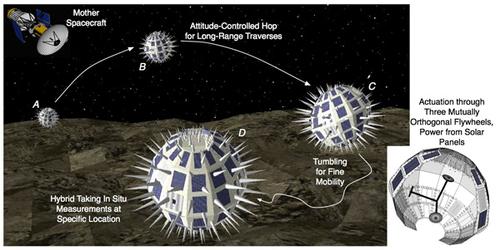 The hedgehogs would gather detailed data, such as using microscopes to measure fine crevices and fissures in the terrain. Meanwhile, the mothership will not remain idle: It might conduct large-scale measurements, such as determining the surface concentration of chemical elements and compounds.
Hedgehog rover craft have been designed as spheres to overcome the challenges of exploring bodies with much lower gravity than a planet's. The first mission will be to Mars's moon Phobos. Its gravity is 1,000 times weaker than that of Mars. In that kind of environment, wheels are likely to lose traction, so team members designed the rovers to rely on airborne motion.
Inside each hedgehog are three rotating flywheels, each aimed in a different direction. The spinning disks' inertial forces let the spheres move with precision in an environment where traditional rovers would bounce or float uncontrollably. By quickly accelerating, the acrobatic spheres can hop for long-range ground coverage. Spinning them faster makes them bound. A slight acceleration makes them tumble, used for fine movements.
The mothership, called the Phobos Surveyor, and hedgehogs will work closely together to initiate and continue the mission. After launching the first sphere, the Phobos Surveyor and the sphere jointly determine its location and orientation, and then map its trajectory. As the hedgehog relays data back to the Surveyor, the mothership in turn sends it to scientists on Earth. Their analysis determines whether up to four or five more hedgehogs will be released, where they will go, and what information they will gather. An entire mission could last two to three years.
The researchers, led by Marco Pavone, an assistant professor in Stanford's Department of Aeronautics and Astronautics, have already constructed two generations of rover prototypes. They expect to test the third-generation hedgehog next summer in a test site that will mimic low-gravity conditions as closely as possible. In two to four years tests will be done of the Phobos Surveyor.
In March, the team will present a paper describing the project at the 2012 IEEE Aerospace Conference in Big Sky, Montana. A presentation can be accessed here and a detailed project report here.
Related posts: