As part of a project to create leader-follower network topologies, a Georgia Tech research team has taught a swarm of small robots to play Beethoven's "Fur Elise" on an electronic keyboard.
A human pianist would play the musical piece by hitting certain keys in different locations at certain times. In a similar way, spatio-temporal requests are delivered to the robots. These requests are a series of spatial locations that must be reached at specified times. The researchers at the Georgia Robotics and Intelligent Systems Laboratory call this application the Robot Music Wall.
The goal of this research, according to the project's website, is "creating application specific leader follower network topologies that are completely controllable." The input (or requests) is sent to the leader node of the network. The rest of the robots operate via a "nearest neighbor averaging" rule. The team says it's developing low-complexity algorithms for such networks.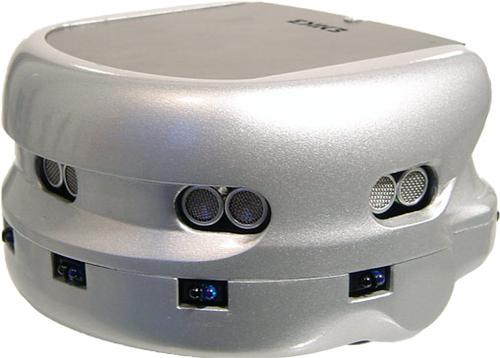 In this particular exercise, the swarm, in effect, must solve a spatio-temporal routing problem, just as real packet networks do. It must figure out how the fewest possible robots can act as a team to travel the minimum possible distance to play the piece. Using the optimal control strategies developed by the research team, the leader of the robot swarm drives the followers around the wall to play the piece under certain speed, acceleration, and sensor range constraints.
As a one-time player of this lovely piece by the master, I wasn't impressed by the robots' musical abilities. But I was intrigued by their ability to coordinate in space and time. They certainly use less energy as discrete nodes moving in concert than two hands with swarms of five fingers each.
These talented machines are the remote-controlled Khepera III swarm robots made by the Swiss company K-Team. They're a bit larger than I imagined, with a diameter of 130mm (5.1 inches) and a height of 70mm (2.75 inches). But that's probably because they contain a lot of components: a processor, RAM, Flash memory, two DC brushed servo motors, eight infrared (IR) proximity and ambient light sensors, two IR ground proximity sensors, five ultrasonic sensors, communication ports, and a battery pack. With all that, they weigh only 690gm (24.3oz), and their top speed is 0.5m per second. They can be controlled remotely or operate autonomously.
We've written about swarming robots before, especially the talented group from the University of Pennsylvania that danced to light and music at Cannes, as well as the underwater swarm that will help rescue coral reefs. This musical team makes me wonder whether swarming robots could turn dreams into art (like the painting ABB robot) and what that canvas would look like.
Related posts: