While "smart" surfing may seem like a bit of a paradox for a sport well renowned for its laid-back participants, Lazerand claims it helps him to become a better athlete.
"It's helped me become more consistent," he said, noting that the data allowed him to adapt his cross-training to match his surfing style. "You have to be mentally and physically prepared, and the data I get from the Sys-Evo helps me do that. I'm not a tech guy, but this is really cool."
The culmination of five years of research, the Sys-Evo is apparently so lightweight that some surfers have asked if the firm could possibly make it a bit heavier, in order to weigh the nose of the board down more on difficult waves. Users can also input data before surfing, like tides from the online tidebooks, which not only helps surfer safety, but can also tell the user when the best tide moment will be and where.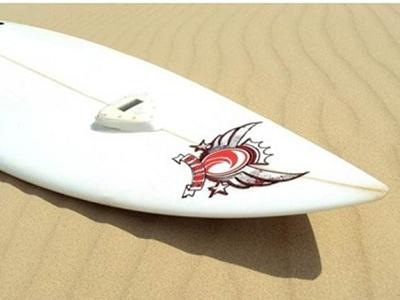 The module itself contains a nine-axis accelerometer, gyroscope, compass, and allows for data to be collected both in and out of the water. "Surfers are big liars; they always want to brag and exaggerate to friends about the height of waves and their performance, but MEMS eliminates that," explained Lazerand, joking that he'd even tried to hack his device to change the data after several instances of poor personal performance.
Not all surfers are particularly keen to adopt the new technology, however, with Lazerand noting that many were still a little wary of the technology. "I've had the most success with younger kids who love video games and grew up with the availability of data collection," he said.
Whether the trend will spread or eventually dissolve, however, remains to be seen.
Related posts: