This is Part One of an article discussing the University of Washington's nationally ranked FSAE electric car (eCar) and combustible car (cCar). Stay tuned for Part Two, tomorrow, which will discuss the four unique PCBs used in both the eCar and cCars.
Each year, university students compete internationally to create winning formula-style race cars. The University of Washington Formula Motorsports Team designed and assembled four challenging PCBs that were key to vehicle performance.
The University of Washington Formula Motorsports Team is a non-profit, academic organization committed to giving the next generation of engineers the skills and work experience needed to excel in their careers.
Click the image below to start the slideshow: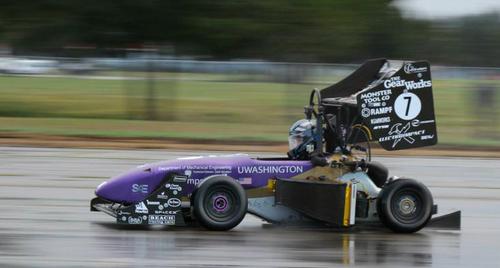 Senior students train younger student engineers by building two small formula-style race cars each year: one with a combustion engine (cCar) and one with an electric drivetrain (eCar). We design, manufacture, and test our cars, then enter them in Formula SAE, an annual international competition hosted by the Society of Automotive Engineers (SAE), our parent organization. At competition, teams begin by performing in static events, presenting each vehicle's design philosophy, cost efficiency, and business plans. Then they perform in dynamic events that test each vehicle's acceleration and lateral grip. Finally, each team competes in autocross, a race that emphasizes maneuverability and acceleration over speed, as well as endurance. The endurance race is a grueling 22 km drive through multiple laps of the autocross course, which tests each vehicle's reliability and fuel efficiency. Unlike other teams who sometimes hire professional drivers, we choose to train our own student members to drive during competition. To date, the University of Washington Formula Motorsports Team has built 26 combustion vehicles and three electric vehicles. Each year, more than 500 teams compete in the Formula SAE competition, and the University of Washington combustion car is currently ranked 31st internationally and ninth in the United States.
Mentorship is key to our training and student development. Three student directors lead the entire U of W FSAE team and manage 14 technical and administrative leads. They, in turn, manage individual members. We take pride in our efforts to create well-rounded engineers who can explain their projects just as well as they can design, fabricate, and test their systems. Our alumni have gone on to become excellent engineers, often working at companies that have sponsored our competition efforts.
This article shares our team's process as we created our vehicles for the 2015 Formula SAE competition. It also showcases four important PCBs designed specifically for the project and describes their objectives, challenges, and processes for testing and revisions:
1. Accumulator Indicator Light (AIL) and Tractive System Active Light (TSAL) Driver board
2. Precharge/Discharge Module board
3. Brake Plausibility Check (BPC) board
4. Insulation Monitoring Device (IMD) Latch board
As we prepared for the June 2015 Formula SAE competition, we gave each student responsibility over a part of a race car. Members focused on one of eight technical aspects of the cars: Aerodynamics, Chassis, Drivetrain, Electronics, Engine, eTrain, Manufacturing, and Suspension. Each student also joined one of our organization's administrative teams, so that in addition to engineering training, they would gain experience in the fields of public relations, fundraising, resource management, IT management, and business.
The Electronics and eTrain technical teams designed printed circuit boards. The eTrain team managed all high voltage systems used in our electric vehicle (e.g., accumulator cell boards, DC-DC converter, etc.), while the Electronics team dealt with all low voltage systems used in both vehicles (e.g., sensors, brake plausibility check, dashboards, etc.).