Once Kor and his team received the full-sized body panels, they fitted them onto Urbee's prototype chassis. Engineers also used the solid plastic 3D-printed window panels as templates for making the glass and plastic windows in Urbee 1. The team used white ABS plastic for the prototype's exterior body, with the addition of some water-soluable grey plastic to support overhanging areas of the white plastic, Kor said.
The team is now tweaking the design and deciding on material choice for Urbee 2, which likely will be some form of recyclable plastic, he said. The team is also considering and learning the CAD processes required to weave two types of materials together similar to how animal bones develop to make the Urbee 2 design even stronger.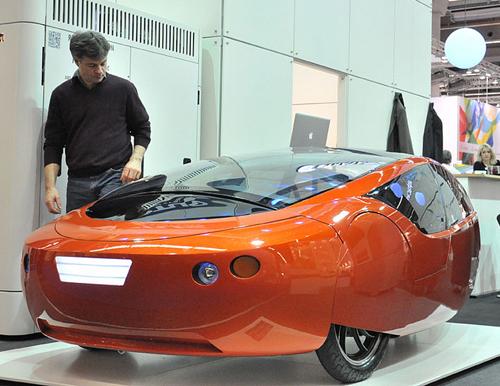 Kor added:
One material would be very strong yet brittle, combined with another material that is less strong yet elastic. In animal skeletons, this combination provides very strong yet durable structures. Stratasys 3D printers can print two different materials at the same time, so require no modification to do this interwoven structure.
The aim for Urbee 2 once it's been fabricated is for someone to drive from San Francisco to New York on just 10 gallons of fuel, setting a new world record. While future Urbees hopefully will use biofuel, Urbee 2 will use a gasoline-powered, small combustible engine, but only to power and charge its battery, Hansen said.
Once Urbee 2 has taken to the road, it will set the stage for mass production of the cars using RedEye on Demand's digital manufacturing service.
related posts:




9
An industrial robot known for its safety around humans has been programmed to work a checkout lane and choose how it accomplishes certain tasks.

2
Trends in motion control all converge toward greater efficiency in movement, energy, control, and wiring.

17
Are they robots or androids? We're not exactly sure. Each talking, gesturing Geminoid looks exactly like a real individual, starting with their creator, professor Hiroshi Ishiguro of Osaka University in Japan.

10
NASA is developing Project Morpheus, a vehicle that can lift off and set itself down on planetary surfaces.

15
Google is developing robots for manufacturing, assembly, and warehouse tasks.


LATEST ARCHIVED BROADCAST
For industrial control applications, or even a simple assembly line, that machine can go almost 24/7 without a break. But what happens when the task is a little more complex? That's where the "smart" machine would come in. The smart machine is one that has some simple (or complex in some cases) processing capability to be able to adapt to changing conditions. Such machines are suited for a host of applications, including automotive, aerospace, defense, medical, computers and electronics, telecommunications, consumer goods, and so on. This discussion will examine what's possible with smart machines, and what tradeoffs need to be made to implement such a solution.



Datasheets.com Parts Search
185 million searchable parts
(please enter a part number or hit search to begin)