Robots have been going into space for a long time, as satellites, probes, and landers. One of the earlier robotic probes, the Voyager 1, launched in 1977, is still operating, and will soon leave the solar system along with Voyager 2. Other robotic spacecraft include the Juno, which is on its way to Jupiter; the Curiosity Mars rover, described below; and various Mars landers and space probes.
But some space robots don't get quite that far. Instead, they're either up in the International Space Station orbiting Earth, being tested as reentry vehicles in low-Earth orbits, or still on Earth undergoing R&D.
Click on the image below to see 13 examples of these space-worthy machines.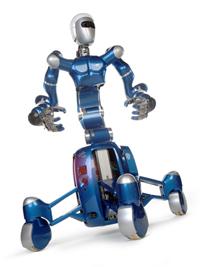 Related posts: