Myriad scientists and researchers have explored the use of graphene as a substitute for silicon in electronics since 3D graphite was theorized to have electrical properties in 1947. But only in the last few years or so have great strides been made in graphene's capabilities. These advancements were due in part to the research of Professor Andre Geim and Dr. Konstantin Novoselov from Manchester University, who won the Nobel Prize for experiments on the two-dimensional material graphene in 2010. The pair was able to grab small graphene sheets from graphite using Scotch tape in an effort to fabricate a working transistor. This essentially paved the way for other researchers to develop methods of incorporating the material even into stretchable electronics.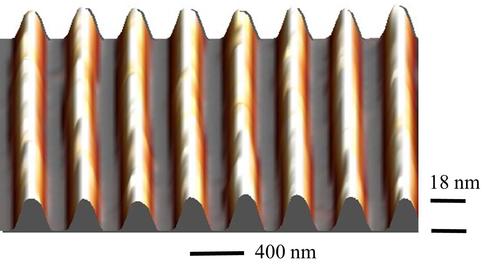 In a paper published in 2011, a group of scientists based at Soongsil University in Seoul, South Korea, and led by Jeong Ho Cho described a method they developed to create a stretchable, transparent material containing graphene transistors. They fabricated single sheets of graphene on to a thin copper foil. Using photolithography and other etching methods, they placed transistor components (including electrodes) into the graphene layers. The layers were then placed on to a substrate of clear stretchable rubber. The remaining transistor components (gate insulators/gate electrodes) were printed using a stretchable ion gel. The group found they could stretch the material by 5 percent over the course of 1,000 times, and the material still retained a good electrical connection.
These are just a few examples of how graphene can be utilized and incorporated into transistors. The future looks bright for the super-material, it but doesn't bode well for its silicon cousin. As electronics become smaller and faster, graphene transistors will become the center of attention in helping that transition from old-school to fast future in the coming decade.
Related posts:




0
GE is working on a new 3D printing method, known as cold spray, in which metal powders are sprayed from a nozzle at extremely high velocities on metal objects.

0
NASA's Robonauts are being developed for inter-planetary travel, and to take over for astronauts when the work becomes too dirty or dangerous.

11
An industrial robot known for its safety around humans has been programmed to work a checkout lane and choose how it accomplishes certain tasks.

7
Trends in motion control all converge toward greater efficiency in movement, energy, control, and wiring.

21
Are they robots or androids? We're not exactly sure. Each talking, gesturing Geminoid looks exactly like a real individual, starting with their creator, professor Hiroshi Ishiguro of Osaka University in Japan.


LATEST ARCHIVED BROADCAST
For industrial control applications, or even a simple assembly line, that machine can go almost 24/7 without a break. But what happens when the task is a little more complex? That's where the "smart" machine would come in. The smart machine is one that has some simple (or complex in some cases) processing capability to be able to adapt to changing conditions. Such machines are suited for a host of applications, including automotive, aerospace, defense, medical, computers and electronics, telecommunications, consumer goods, and so on. This discussion will examine what's possible with smart machines, and what tradeoffs need to be made to implement such a solution.



Datasheets.com Parts Search
185 million searchable parts
(please enter a part number or hit search to begin)