Wireless Q45 Sensor
Banner Engineering's SureCross Q45 Remote Device (RD) model is the latest addition to the company's line of wireless sensors. The Q45 RD model is capable of interfacing with isolated dry contacts or PNP outputs, allowing the RD to interface with almost any digital sensor. It also features a mode where it interfaces directly with NAMUR inductive proximity sensors.
The RD model delivers the longest lifetime of all Q45 sensors. The Q45 RD model operates on less than 100uA of current, allowing the battery to last up to five or more years, depending on the application.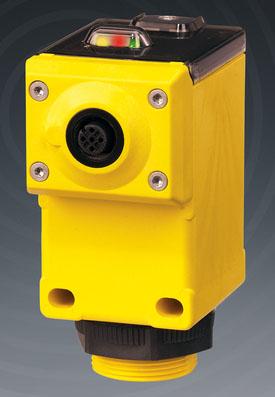 "The RD model extends the flexibility of our SureCross Q45 wireless sensor family even further," said Bob Gardner, Senior Product Manager at Banner Engineering, in a press release. "With the ability to interface with any PNP or dry contact outputs, the RD model provides our customers with the flexibility to solve diverse industrial control applications. This is the ideal solution for call for parts or call for service applications."
The RD model is part of Banner's innovative SureCross Q45 wireless sensor family, which is a self-contained, wireless standard, photoelectric sensor solution designed for control and monitoring applications. The proprietary, self-contained battery, radio, and sensor solution replaces costly wired solutions with simple deployment and untethered communications, improving efficiency by monitoring and coordinating multiple machines and processes.
Gore Skyflex Aerospace Materials
W. L. Gore & Associates has expanded its line of Gore Skyflex Aerospace Materials to improve protection against chafing and abrasion in both rotary and fixed wing aircraft surfaces.
Gore Skyflex Aerospace Materials for anti-chafe applications helps minimize vibration force and reduces the abrasive effects of foreign debris between surfaces. In applications such as access panels, fuel bladders, tail booms, and transmission panels, mechanical wear from vibration can cause small particles to become trapped between the interfaces, resulting in chafing, pitting, and scoring. Gore's soft, durable materials are chemically inert and resistant to aircraft fluids, thereby minimizing potential corrosive effects.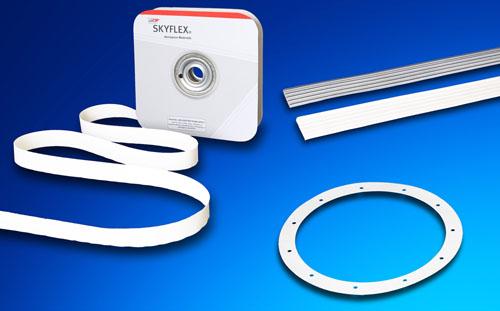 Gore Skyflex aerospace materials for edge protection are abrasion-resistant and engineered specifically to prevent abrasion and cut-through damage from composite floorboard edges, reducing the likelihood of corrosion. More durable than fiberglass tapes, these materials protect edges by isolating carbon and other components that are galvanically dissimilar. They are easy to install because of their single-component construction, and they simplify maintenance because they are easy to remove for inspection.
According to Ross Livington, Gore's Global Product Specialist for Gore Skyflex Aerospace Materials for surface protection, the mechanical properties of these materials have been engineered to withstand wear and increase the durability of their protective performance. "With decades of experience in the aerospace industry, we understand the importance of reliability and aircraft availability. Our highly conformable materials reduce downtime of the aircraft through their long-term performance, and with easy installation the aircraft availability can be improved," he said in a press release.