The factory buildings were specially designed with both style and incredible amounts of functionality in mind, from Renzo Piano's Wind Tunnel building, completed in 2007 and resembling a part of an engine, to Marco Visconti's visually stunning aluminum and opal glass paint shop, designed to minimize contact between the workers and toxic materials.
The central element of the Wind Tunnel building is a tubular duct 80m long where airflow can be artificially generated and modified for turbulence, angularity, and uniformity. The turbine guarantees an airflow of about 250kph for models in 1:2 scale and of about 150kph for 1:1 scale models, as well as real cars.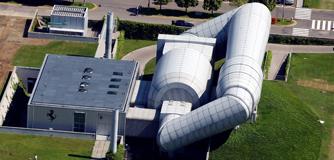 Thanks to a mechanism controlled by more than 300 sensors and a conveyor belt that is synchronized with the wind speed, Ferrari's engineers can simulate and monitor practically every movement of the various models, from rolling to yawing, pitching, and swerving.
Engineering engines that purr
The mechanical workshop, too, was built with advanced technology in mind, as was the new logistics Ges, a long hangar-like building designed by Sturchio Architects & Designers, where the logistical heart of the Ferrari team is located.
It's the eight-level paint shop, however, that is probably the most impressive facility at the Ferrari plant. Designed by Marco Visconti and opened in 2004, the paint shop is a magnificent structure of aluminum and opal glass, interspersed with clear insets that serve as an adjusting filter to the outside weather conditions, which helps to cut down on energy. Controlled by one operating and control center, the building was constructed in such a way as to ensure that contact between the workers and the materials used by the paint shop remained at a minimum. The powder-based primer and water-based paints are applied in a process of pretreatment and cataphoresis in a tunnel where the car bodies are immersed and rotated 360 degrees in 11 successive tanks, without any human intervention whatsoever.
Ferrari even has its own foundry on site, mainly to manufacture primary aluminium alloys, as well as to manufacture parts for engines and body work. Engine parts are cast by means of sand molds and gravity die-casting for what Ferrari maintains is "the best mechanical performance."
There are also two prominent engine assembly lines in the Ferrari complex, for the production of the iconic eight- and 12-cylinder engines. The 12-cylinder line is reserved for the most experienced workers, who carry out all of the final assembly operations and sign the technical sheet of the engine. The eight-cylinder engine base is manufactured in the foundry unit by casting aluminium with 7 percent silicon (at approximately 760 degrees centigrade) into a shell.