Access points on industrial networks are often being PoE-powered, as well. In a warehouse, for example, with a fiber link to the access point, a PoE device can provide a conversion from fiber to Ethernet and also power the access point. The key application advantage is covering needs with just one device. Duffy said:
In the industrial market, the move to PoE is a more recent trend driven by the introduction of ruggedized switches with additional power available through the media converters," Duffy said. "One specific feature that is useful to managing a remote device in a hard-to-reach location or a camera mounted on the top of a pole is the ability to remotely reset the power.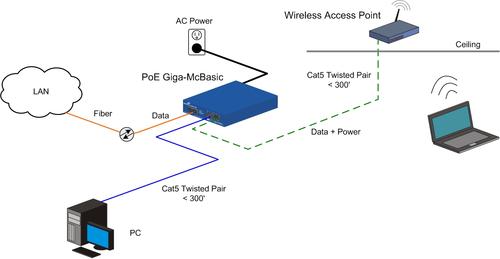 This approach enables remote cycling of the power interface on a device such as a camera that is locked up, or to reset an unmanaged media converter. The PoE reset feature enables turning off the near end device, or the user can unplug the fiber connection and reset the power of the far end. This offers a unique feature that works well with the level of technician commonly managing industrial installations.
Previously limited to 100 Mbps, B&B's next-generation Giga-MiniMc and Giga-McBasic families were developed to meet the growing demand for PoE and PoE+ functionality in a gigabit form, where remote PD devices require power, and the ability to transmit large amounts of data. These high-bandwidth devices are typically deployed for security, kiosks, in offices, and other environments that require power for Ethernet devices.
Related posts: