Ekso walkers also don a backpack that contains a battery-powered computer -- which can respond to gesture data from 15 sensors -- running four electromechanical motors that work the robot's legs. "The robot has connection points to you which are strategically located so it can apply forces there to keep your weight naturally loading through your bone structure down to the floor," said Harding, who added that it replaces the functions of people's muscles, but not the work of their bones.
This is how their legs can still go through the motions of walking themselves and thus can remain strong and avoid atrophy by using the robot. "Their weight still goes through their bone structure and their bones are still supporting their weight," he said.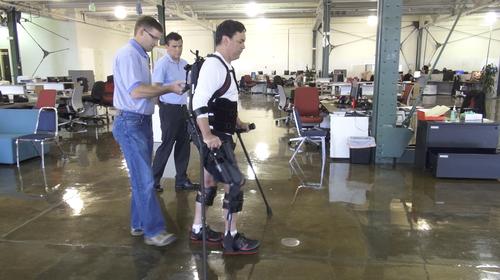 Stepping into the future Tagatac suffered what's called a T-8 complete ASIA spinal cord injury in July 2011 after falling from a ladder while changing a light bulb at home, an accident that changed the course of the active adventure-traveler's life. The fall left him paralyzed from just above the belly button down, an injury that normally would mean a wheelchair for the rest of his life.
While recuperating at Kessler Institute for Rehabilitation in New Jersey, Tagatac's brother showed him a newspaper article about Ekso's technology. The company -- which has gone through several name iterations -- was then called Berkeley Bionics, and the suit that is helping Tagatac to walk was called eLegs.
"I dismissed it as a futuristic thing," he said. But for Tagatac, the future was now -- or at least two months later, when one of his doctors at Kessler asked him to participate in a research study Ekso was doing with the facility. For the next six months, Tagatac was one of several test cases who used Ekso to walk four times a week, and he still works with Ekso to demonstrate and talk about the product, which gives him a chance to use it.
In addition to helping keep both his lower-body and abdominal muscles fit for when potential medical advancements could make it possible for him to walk on his own again, using Ekso also helps relieve Tagatac of chronic pain he has as a result of his accident, he said. "When I'm sitting down I have neuropathic pain -- it feels like a six-inch too-tight belt around my waist," Tagatac said. "When I stand up and walk in Ekso, that pain is diminished by about 70 percent. I'm psyched to walk and all of that but I also look at it like a pain management tool."
Aside from the obvious medical benefits, standing up and walking in Ekso also has psychological benefits for Tagatac, giving him a similar feeling of dignity and control over his life that he had before his accident. "It's pretty important to see people at eye level," he said. "When you stand up, suddenly, the whole world feels normal again. After being knocked off my horse, so to speak, suddenly you feel like you're back on the horse."
Related posts: