Temporary tattoos are usually fun entertainment for kids. But researchers in California have used them for quite another purpose -- to create a biobattery that can harvest energy from human sweat.
Engineers at the University of San Diego's (UCSD's) Jacobs School of Engineering have designed biobatteries on commercial tattoo paper, with an anode and cathode screenprinted on and modified to harvest energy from lactate in a person's sweat, Wenzhao Jia, a visiting professor at UCSD and one of the researchers on the project, told Design News.
The tattoos are transferred onto skin the same way as temporary tattoos, using the same kind of adhesive, Jia told us. Researchers developed the technology last year as a noninvasive way to monitor the pH and lactate content in athletes' sweat through a sensor that could be worn on the skin. "We want to develop a power source for biomedical devices including our sensors," he said. "Tattoos are flexible, easily transferred, and compliant to the skin."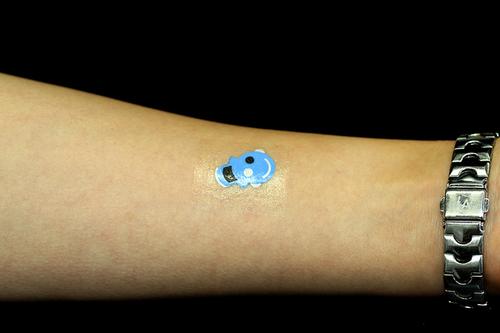 Before this sensor was developed, it was complicated to measure a person's lactate. Blood would have to be drawn from someone during various intervals during a workout and then tested for the substance, which naturally occurs and increases when a person engages in cardiovascular activity.
As the UCSD team developed that technology, which required they remove electrons from lactate, they realized they were halfway to developing a battery. They proceeded to do that, and so the technology eventually segued into a biofuel cell. "Since we want to develop a non-invasive device for power generation, sweat lactate was used as the fuel for the tattoo biofuel cell," Jia explained. "The basic principle of the anode of the biofuel cell and the sweat lactate sensors are similar. So we developed a biosensor for sweat lactate monitoring, and a biofuel cell to generate power from sweat lactate."
To allow people to use the energy harvested from their own sweat to power external devices, researchers are developing a system with an integrated device to store the generated power, he told us.
This work, as well as the improvement of the biofuel cell to generate higher power that can provide energy for external devices, is the focus of continued research by the UCSD team to further develop the tattoos, Jia said.
Related posts: