An Israeli design student has created a series of unique pieces of jewelry that can harvest energy from default movements of the body and even use human blood as a way to conduct energy.
A conceptual project by Naomi Kizhner, an industrial designer, the goal of Energy Addicts is not to produce jewelry that can be commoditized. Rather, it is aimed at provoking thought for the future in a world that is dependent on electricity, which is rapidly becoming a limited resource, she told Design News.
"I actually wanted to think about and consider possible futures, or mainly to encourage people and consumers in the modern society to think about their possible future," Kizhner said. "I wanted to provoke a discussion, since in our modern life we are literally addicted to electricity. I wanted to provoke the thought about how far will we go to in order to feed our addiction in the world of declining resources."
Click on the image below to see Kizhner's Energy Addicts pieces, and how they are worn/work.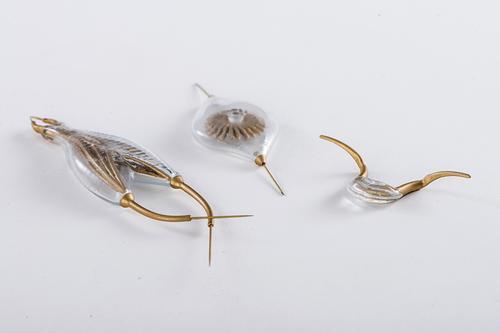 Made of gold and plastic, Kizhner's prototype pieces -- which have all been 3D printed -- are contemporary artistic design pieces that are sometimes severe and startling to behold. They are worn on various parts of the body depending on how they harvest energy. "The accessories are made from a biopolymer clear shell, and the 'heart' of it, as well as the needles, are made from gold," she told us. Kizhner chose gold because it is known to have beneficial qualities for the human body.
She created three pieces of jewelry for the project. One called "the blinker" is worn across the bridge of the nose and harvests kinetic energy from the opening and closing of a person's eyes. A second piece, "the blood bridge," is slightly more sinister and interactive, acting like a double syringe that uses human blood rather than water as the liquid to turn a wheel to create a mini hydro turbine, says Kizhner. That piece can be worn on places like the wrist where there are veins that can be tapped for blood.
A third piece, "the e-pulse conductor," harvests energy from neurological activity that constantly produces electric pulses. Gold needles are used as a conductive material to harvest and store energy in the device. This can be transferred through a port to power up electrical devices.
Kizhner says she wanted to create devices that could harvest energy from the body's involuntary activity. "It was important to me to choose 'default' activities of the human body because I believe that we are kind of lazy."
While the point of the project was not necessarily to create products that can be sold, Kizhner is open to designing commercial pieces if there is demand for them.
Related posts: