Stanford University researchers have found a way to realize what's been called the "Holy Grail" of battery-design research -- designing a pure lithium anode for lithium-based batteries. The design has great potential to provide unprecedented efficiency and performance in lithium-based batteries that could substantially drive down the cost of electric vehicles and solve the charging problems associated with smartphones, according to researchers.
A team of engineers at Stanford has designed a layer of interconnected carbon domes 20 nanometers thick -- or 1/5,000 of the width of a single human hair -- to protect a lithium anode. They published their findings in a paper in Nature Nanotechnology.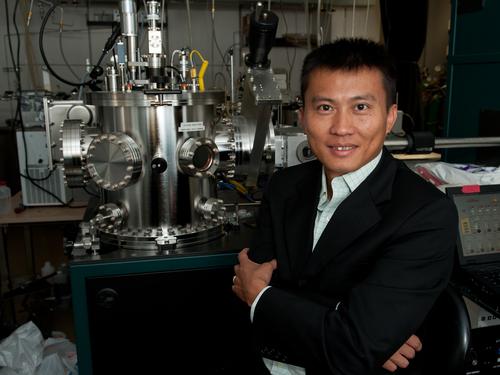 This layer resembles a honeycomb around the lithium -- which is typically unstable -- and allows it be stable enough for chemical reactions with the electrolyte as well as to withstand the expansion of lithium during the charging process, said Yi Cui, a professor of Material Science and Engineering and leader of the research team, in a press release.
Current lithium-ion battery designs use lithium in the electrolyte, but not in the anode. However, a battery with a pure lithium anode would provide a substantial boost in efficiency and performance, as well as other benefits, he said. "Of all the materials that one might use in an anode, lithium has the greatest potential. Some call it the Holy Grail," Cui said. "It is very lightweight and it has the highest energy density. You get more power per volume and weight, leading to lighter, smaller batteries with more power."
In addition to Cui, the research team included Steven Chu, the former US Secretary of Energy and Nobel Laureate who recently resumed his professorship at Stanford, and Guangyuan Zheng, a doctoral candidate in Cui's lab who was the first author on the paper.
Chu provided a real-world perspective on the potential of the research in the press release. "In practical terms, if we can triple the energy density and simultaneously decrease the cost four-fold, that would be very exciting," he said. "We would have a cellphone with triple the battery life and an electric vehicle with a 300-mile range that cost $25,000 -- and with better performance than an internal combustion engine car getting 40 miles per gallon."
So far, engineers have been unable to use lithium in battery anodes for a couple of key reasons. One is because lithium ions expand as they gather on the anode during charging. While other materials also expand in this scenario, lithium is different in that its expansion is virtually infinite and also uneven, causing cracks to form on the surface of the anode that allow lithium ions to escape, according to researchers. This forms growths on the anode called "dendrites" that short-circuit the battery and shorten its life.
Lithium also can overheat when it comes into contact with the electrolyte of the battery, another problem researchers had to overcome when designing the nanostructure to protect the lithium anode. The material chosen for the nanosphere layer designed by the Stanford team -- amorphous carbon -- tackles both problems because it's chemically stable and is also strong and flexible, so as to move freely up and down with the lithium as it expands and contracts during the battery's normal charge-discharge cycle, according to researchers.
While they have tackled the main historical problems with using lithium in battery anodes, researchers still have a way to go to achieve the coulombic efficiency of 99.9% for the anode to make it commercially viable. Cui told Design News that researchers have recently achieved 99.6% and could make it to their goal in two years.
Related posts: